Who Are You Going To Call?
Hermanas,
I just matched two of my friends so they can do business together, and they loved each other. I know they will also become dear friends. They will be a blessing in each other's lives in so many ways, and they will also be able to make so much money together. They are better together than apart. Not everyone is meant to be an entrepreneur by themselves. Some people work better with others. How many of us are afraid to start a business alone, but if we had another person who could be brave with us, we could reach the moon?
Sometimes entrepreneurship does not have to be a lone journey. There are other women who can be that other half we are looking for, with complimentary skills, to make something happen. Sometimes that other person is under our nose - they can be one of our children, a sister, a cousin, a friend from kindergarten, or a new acquaintance. Sometimes, we need to partner with another Latina, and then sell our products and services to other Latinas…in order to go get our own chips! We may also find someone outside our community who we worked with before, who brings us contacts and skills, and who will help us sell our products and services to a bigger market. We need to open our minds to partnership.
Look and see who is around you that you trust, that you think is smart and solid, that you think is brave - who you can take the plunge with, to begin something new, so you can both own your destinies through a business. Don't be embarrassed - call her! The best partnerships in the world begin with a call.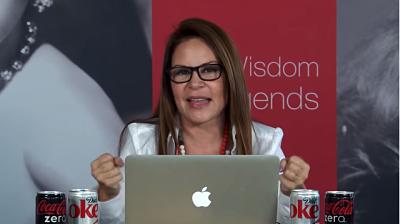 Welcome to The Adelante Movement Summer School with Nely.
Three classes in between the summer fun to remind you of your path of Mission and Money.
Register here for 3 summer school classes with me LIVE!
Course Adelante 101 - From Adelante! to Rich Latina
1) June 30th 10 am pst/ 1pm est "MONEY - FIND IT TODAY! Start a Business Today"
We will explore Ebay, Amazon, AirBNB, UBER, Craigslist, and other shared economy platforms to make money while we sleep. I will show you how to go on a treasure hunt through your house and walk away with cash for your new business.
2) August 19th 10 am pst/ 1pm est "IN YOUR PAIN IS YOUR BRAND"
I'll show you how to explore your pain to create a brand. You'll learn how to get your brand out there; how to become a local star, how to put your self out there for TV, events, speaking engagements, radio etc., and using social media to build your brand. Special guest Sheila Conlin - Hollywood's "Reality TV" casting director.
3) September 2nd 10 am pst/ 1pm est "HOW TO BECOME A RICH LATINA - Wealth Building"
Learn how to invest $5.00 each week and become a millionaire, and optimize your relationship with your bank. Don't buy shoes buy buildings, insurance, and bonds, so you can MAKE MONEY.
Please send me any questions that you want me to explore and answer, and any topics you want me to include in our summer school at: info@theadelantemovement.com
In the meantime, enjoy our recent webinar, "Ten Questions to Consider Before Starting Your Own Business" Watch Here
Can't wait to see you in class.
Now, here, go. Adelante!
All My Best,