Nely Galan, Founder Bio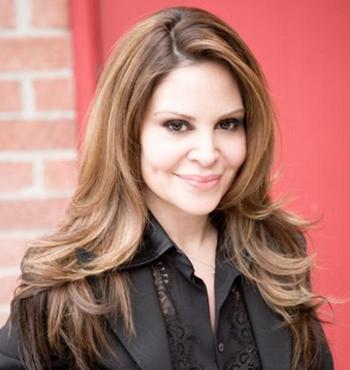 Latina media dynamo and women's empowerment advocate Nely Galan, dubbed the "Tropical Tycoon" by The New York Times Magazine, is one of the entertainment industry's savviest firebrand talents. A first-generation immigrant and self-made media mogul, Galan was the first Latina president of a U.S. television network (Telemundo). She is an Emmy Award-winning producer of over 600 episodes of television in Spanish and English, including the Fox reality hit series The Swan, and the first Latina to appear on The Celebrity Apprentice with Donald Trump on NBC. She regularly electrifies audiences with her experiences as one of the first Latina producers in Hollywood and her rise to become a successful media and real estate entrepreneur as well as an inspirational speaker and passionate advocate for the empowerment of Latina's everywhere.
Galan has owned and operated her own media company, Galan Entertainment, since 1994, launching 10 groundbreaking television channels in Latin America, and producing a staggering 600 episodes of programming spanning all genres—from reality to sitcoms, telenovelas to talk shows, in both English and Spanish.
Galan Entertainment was also responsible for creating and executive producing the smash FOX reality hit The Swan, and its in-house life coach, Galan wrote the bestselling companion book, The Swan Curriculum. The Swan has aired in over 70 countries around the world, and was famously spoofed by Tina Fey on Saturday Night Live. She has also owned her own real estate development and investment company, Santa Clara, for fifteen years, which has commercial and residential real estate holdings in multiple states. Galan appeared on the NBC hit The Celebrity Apprentice with Donald Trump, joining an all-star cast that included Gene Simmons, Nadia Comaneci, Marilu Henner and the infamous Omarosa. Galan's appearance on the show, where she raised $250,000 for her charity COUNT ME IN, furthered her reputation as one of the nation's top female moguls.
In her role as public speaker, Galan routinely draws rave reviews for her mesmerizing presentations on the Latino market, entrepreneurship and female empowerment.
Galan is also frequently cited for her influential work outside the industry as a board member for COUNT ME IN (the leading national non-profit provider for women entrepreneurs), the Coca-Cola Company Advisory Board, and she is an Emeritus member of The Smithsonian Board. She was recently featured in HBO's The Latino List documentary and national museum show as one of the most influential voices in the Latino community.
Visit Nely Galan's website, www.nelygalan.com, and Facebook page, www.facebook.com/nelygalan