Adelante at NCLR!
By Nely Galan on 07/06/2012 @ 11:15 AM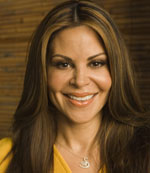 I am on my way to the NCLR to speak at The Latina Brunch alongside Suze Orman, who I have long admired. Nothing means more to me than to be economically self-sufficient; and to now be able to share the stage with her, and share our thoughts about economic empowerment for women, is my mission come true.
I am also excited to present all the Latina Leaders that attend The NCLR and a sneak peak at The Adelante Movement Tour, with iconic author Sandra Cisneros discussing the process of finding your voice and your mission; entrepreneur guru, Nell Merlino, on the prospect of writing a business plan for your dream in one page; and myself, talking about the movement, its goals, our plan for the year, the tour and the online community.
BTW- we also have a secret cameo appearance lined up by a woman I greatly admire, and one that is joining the movement....