Awaken, Empower and Hustle
By Nely Galan on 07/13/2012 @ 11:15 AM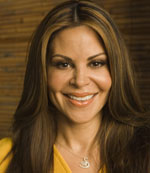 There is an adverb in Spanish that I absolutely love but can never accurately translate in English. The word is realizada, which begs the question: what does it mean to be fully realizada?
For lack of exact translation, let us say that it means to be actualized. To be whole on your own. To take personal responsibility. To be the master of your own decisions, and most critically—to make your own money. This is exactly what my former employer meant when he said to me: "go get your own chips—these are my chips."
It is no mystery that entrepreneurship drives this country's economy—it is its heart and soul. So who are entrepreneurs? They are seekers, people who take risks and people who want a better life. They are futurists, innovators and risk-takers. They are not followers, but instead doers who complete and execute. They are active, they are on it, and they are never short on stamina.
But you have to begin with a dream, and to dream genuinely—to really see the prospect of wealth and success for your family—you have to consciously let go of the notion that money is the root of all evil. In fact, right now it is quite the contrary for us: as Latinas, we are currently the emerging economic market in the country. And guess what that makes us? Powerful and empowered. It makes us poised to redefine our financial reality—on our terms.
If you are employed, it's time to get creative about how to bring more money into the family, so that we can grow into old age with less anxiety and more peace. It's time to think on a parallel track—one that combines your life mission with your ongoing financial growth, so that you are always keeping the big picture in mind.
My dream is that you will learn how to think like an entrepreneur even as an employee; that you will bring both inspired and tangible opportunities to your family by taking action. With this in mind, The Adelante Movement was created to not only encourage and inspire Latina women towards economic success and empowerment—but to literally hand you the tools and resources to make both happen.
The Adelante Movement will bring Latinas like you information on jobs, government contracts, start-up funding for businesses and franchise opportunities. As the largest economic emerging market in the world, it is time we get the economic power we deserve.
You are now being given the opportunity to join forces, support one another, to look at your fears square in the face, and transform them into personal and collective success. But to do this, you will need equal parts ganas, creativity and every drop of your courage. Remember: this is not an easy road. It's a long distance run that requires energy, perseverance, and the love of obstacles. I encourage you to make fear and failure as your best friends, and use them as actual tools to propel you to the next level of your potential—a subject I'll get into more in my next blog entry!
It's really very simple: if you take action, you will connect with money, develop wealth and leave a legacy. So, what are you waiting for? Join the Tour. Now. Here. Go. Adelante!