Gina Rodriguez Launches Campaign to Highlight Latino Stars
She may not be boycotting the Oscars, or unleashing bitter attacks against the Academy for its lack of diversity, but Gina Rodriguez is rolling up her sleeves and taking action.
The "Jane the Virgin" actress is weighing in on the growing Academy Awards controversy by launching a campaign to highlight the entertainers working hard to put Latino stories on screen.
"With all this Oscar talk and lack of diversity I decided to start a movement and speak from the perspective of a Latina American who desires to see more Latinos on screen," she wrote in an Instagram post on Monday. "There are 55 million Latinos in this country and although we all come from various backgrounds our unity can make a movie explode at the box office or a TV show [soar] to the highest viewers possible."
Right now, she noted, there are not Latino stars who can green light a movie from a studio because "they don't believe we can make their money back."
"I am told time and time again 'Latinos don't watch Latino movies. Latinos don't support each other' and sadly that is true," Rodriguez, 31, wrote. "I'm not saying go and see a movie you don't like to blind support, I'm saying if you want to see us represented on film and TV, if you want to see Latinos nominated for Oscars, we NEED to support one another."
She said the Latino community – which has been mostly silent in the Oscars debate, and tends to be a lot less vocal and more fragmented than the African American community – can become a more powerful voice if it unites and supports one another.
"Let's start making noise … where it matters most, where we put our dollars. Go support these films, watch these shows (mine is on tonight by the way, shameless promotion feel free to watch on the CW) and we can take making a change into our own hands."
In the post, which she calls "#MovementMonday," Rodriguez highlighted Golden Globe winner Oscar Isaac.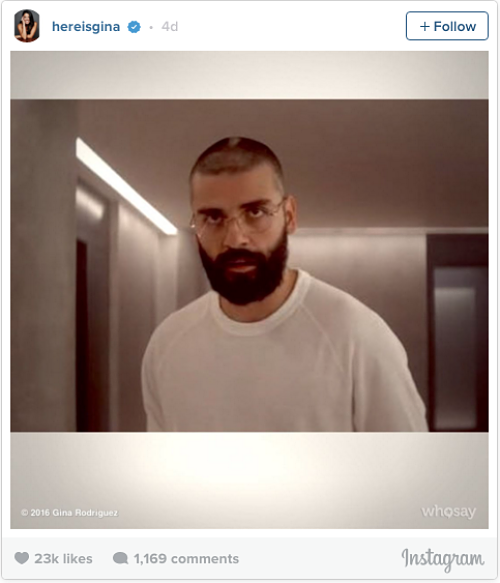 The Guatemalan-American actor starred in "Ex Machina", "Star Wars: Force Awakens" and "Mojave" and received raved reviews for his roles in "Inside Llewyn Davis" and "A Most Violent Year" in 2013 and 2014.
"Oscar Issac, in my opinion, had an Oscar worthy performance in ('Ex Machina')," Rodriguez said. "Let us use our numbers and powerful voices to prove we support one another, to prove we can make a box office hit, to prove they need to support all the various Latino cultures."
This is not the first time the Golden Globe winner called on Hispanics to take action.
Speaking to Fox News Latino in March 2015, Rodriguez made similar request, saying that viewership for her show was "not as crazy as I believe it can be. And that is the reason I make a call to action for Latinos."
"We are 54 million plus in this country. If we have a third, even just 10 percent of them watching 'Jane' … then we can bring up our numbers and they (the studios) are going to create more shows and they aren't going to have a fear that we don't make money," she told Fox News Latino. "We have to support our own community, i.e. we have to watch shows like 'Jane,' 'Cristela' and shows that are to come like 'Telenovela' and Jennifer Lopez's new show 'Shades of Blue.' I am going to support these women and continue to support these women because in doing so we show them how powerful we are and they make more of us."
Read the full article here.