Gina Rodriguez Raps, Shows off Salsa Moves on TODAY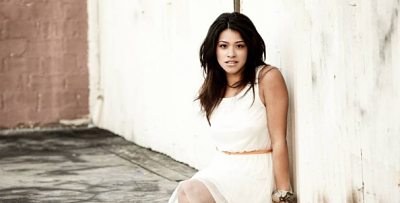 "Jane the Virgin" star Gina Rodriguez is on top of the world.
The Golden Globe-winning actress, who moved the audience to tears with her emotional acceptance speech, is making strides for Latinos on TV, making a movie with Mark Wahlberg, and in real life, she's head over heels in love with her boyfriend and fellow actor Henri Esteve.
Rodriguez revisited the moment as she watched a clip from her Golden Globes acceptance speech (where she represented her Latino culture and paid homage to her father who always believed in her) during an interview on TODAY.
"I didn't know you were going to play that. I haven't seen it since!" said a teary Rodriguez. "I was like, 'Oh, why did you do that? The makeup artist's going to kill me!"
Makeup aside, Rodriguez reflected on the raw and powerful moment.
"That was awesome. I feel so blessed. I haven't really been able to sit down with it as much as I think that I want to," she added.
"I think that it takes time to look back -- and obviously I appreciate it more than anything in the entire world, but it's hard for me to even explain that feeling. There just are no words that encompass that 'Oh, wow' feeling."
After she caught her breath, Rodriguez went on to explain that as an actress you don't often get to play a "strong, powerful and fearless and brave" character such as Jane the Virgin.
Also, as a Latina portraying a Latina, she is thrilled "to really expose a culture that hasn't been shown in this light, it's just so intermixed. ... It's an inside pride which we all carry for any culture that we may have," she said.
Rodriguez also let loose during her visit and showed off her salsa dancing moves with anchor Natalie Morales while on the set of "Jane the Virgin." The energetic actress also showed off her rap skills in an impromptu rap where she incorporated Al Roker and the weather, Morales' dance skills as well as Tamron Hall and Willie Geist, who she wanted to beat box. Maybe next time, Willie!
Bottom line, Rodriguez proved that she brings a lot to the table and there's only better material down the road -- be it in acting, dancing or even rapping!
Check out the video on TODAY. "Jane the Virgin" airs on The CW on Mondays at 9 p.m. ET.
Read the full article here.