L.A.'s Judith Baca wins $50,000 award, breaking ground for mural artists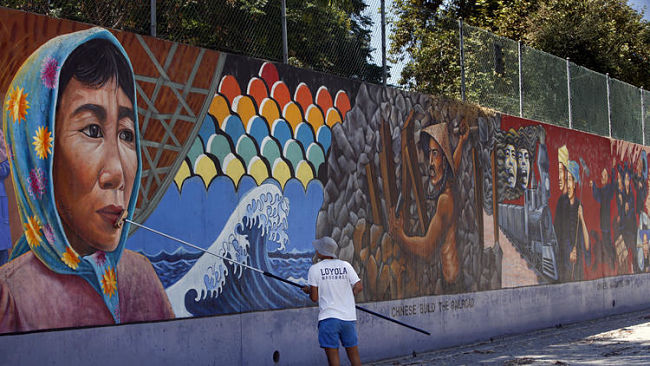 A representative from the Social and Public Art Research Center, or SPARC, cleans Judith Baca's "The Great Wall of Los Angeles" in 2014. Baca is the first muralist to win one of United States Artists' $50,000 awards. (Mel Melcon / Los Angeles Times)
Los Angeles mural artist Judith Baca was named Tuesday as the first muralist to win a grant from United States Artists since the nonprofit group began giving the $50,000 awards in 2006.
Baca, 69, said it's the biggest cash award of her career, topping a Guggenheim fellowship she won in 2003. More important, she said, "in a sense, it's a legitimization of [mural art], which is a profound field in public art. I'm very happy to hear I'm breaking that ground."
The award citation said that Baca "has stood for art in service of equity for all people. Her public arts initiatives reflect the lives and concerns of populations that have been historically disenfranchised, including women, the working poor, youth, the elderly and immigrant communities, throughout Los Angeles and increasingly in national and international venues."
Baca's works include "The Great Wall of Los Angeles," which stretches more than half a mile along Tujunga Wash, a concrete-walled flood control channel in the San Fernando Valley. She finished it in 1981, having led a team of about 400 people to create it.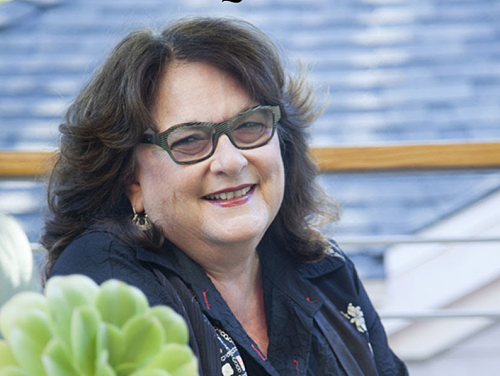 Judith Baca is one of the winners of this year's $50,000 United States Artists awards. The Los Angeles artist is the first muralist to win one of the awards since the program's start in 2006.
Baca emerged as a public artist in 1974, working under a city-funded murals project; when that was discontinued, she helped to launch the private, nonprofit group Social and Public Art Resource Center (better known as SPARC), which continues to create and restore murals and advocate for their preservation. She is SPARC's artistic director as well as a professor in UCLA's department of Chicana and Chicano Studies.
Baca said she might use the money "for my own dreaming" -- that is, to create a work that would be primarily personal instead of representing a social issue. "I'm joking, but I like to think of the idea that it will be totally irrelevant."
She said she recently received a $30,000 commission from the city of Los Angeles to create murals at four places in Watts -- three looking back at the causes and destruction from the 1965 Watts riots, and the fourth reserved for a vision of the future. She's also working on a book about her art and life called "Painting in the River of Angels."
Baca was the only Southern California winner this year among 36 United States Artists prize recipients in the nine categories: architecture and design, crafts, dance, literature, media, music, theater and performance, visual arts and traditional arts. Grants totaled $1.8 million and can be used in any way.
Read the full article here.