You Can Go to College, Mom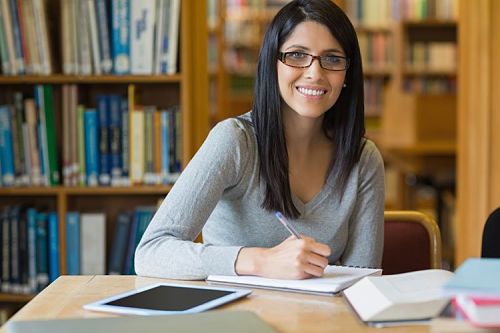 Did you know that although Latinos have exceeded white Americans in college enrollment numbers, we also have an eight percent lower graduation rate than our white peers?
It's time we change that statistic. If you've ever thought about going back to school, but hesitated due to concerns like cost, family care or your ability to succeed, then listen up, amigas.
It's time we take a step towards expanding our opportunities for the future. Many fears are just obstacles that can be overcome with a little pre-planning.
Here are answers to some of the most common worries about returning to school. Share these tips with friends and familia who might be interested in pursuing higher education as adults. So many Latinos are taking the leap to enroll in college and pursue their degrees. Be a part of the statistic that makes it to the finish line. You and your family will be so proud you did.
1. How do I choose a college?
Most of us will have to search local colleges, or enroll in online school in order to complete a degree. Make a list of the community colleges and universities in your area, and then find out what certificate or degree programs they offer. Also look into the length of time you would have to invest to obtain the degree you would like. Once you've narrowed down the results, call the school and schedule an appointment to speak with an enrollment advisor about how to apply.
2. What's the difference between online school or going to a campus?
Online schools offer flexibility to students who cannot attend traditional college classes. They also require a certain level of self-discipline and a lot of independent study, whereas campus-learning offers the instruction of a professor and collaboration with your peers. Each online school varies in terms of class schedules and time commitment, as do on-campus courses. Both have benefits and drawbacks, so it's important to take into consideration your schedule and educational needs when deciding between the two.
3. How do I select a degree program?
While it may be overwhelming to look through a course catalog and make a decision about your future, it's not set in stone. Some students may start college with the desire to obtain a certificate of study, and others may pursue a two-year associate degree, or even a four-year bachelor's degree. Start with whatever works for you and sounds attainable — and be open to the possibility of change as you continue your academic journey.
4. What if I'm not smart enough or I've been out of school too long?
This single fear holds so many smart students back. College is about learning what you don't know, not about showing up ready to teach. As for the last time you were in a classroom? It doesn't matter if you've been out of school for five, 10, or even 20 years – you can still go to college and learn. The current record-holder for the oldest person to obtain a college degree is a 99-year-old man. If he can go back to school, what's your excuse?
5. What if I can't afford tuition?
Although President Obama has recently discussed offering free community college to students, the cost of a higher education is still, well, high. There are, however, many grants and scholarships available to low-income or high-achieving students. Start by filling out your FAFSA online each year, as soon as you file your income tax return. This helps determine whether or not you are eligible for a Pell Grant, which you can use toward the cost of tuition.
Many other grants and scholarships are available to Latinos through places like The Hispanic Scholarship Fund, and just take some research and usually an essay to apply. You can also check with your school to see if they have specific scholarship programs for which you might qualify. Lastly, student loans are always an option and can be applied for directly through your school's financial aid department.
6. Who will watch my kids while I'm in school?
Some colleges and universities offer on-site childcare for students, while others offer grants or loans to help cover the cost off-campus. If those options aren't available, talk to close friends and family and see if you can find support. If your children are school-age, try to set your class schedule for Monday through Friday with your last class ending before your kids are out of school for the day. Finally – if none of those options work, consider online school as a way to stay home with your little ones while also advancing your education
Read the full article here.