Carolina Herrera
(Venezuela, 1939– )
A top international fashion designer and wildly successful businesswoman, Carolina Herrera is an icon of class, elegance, and sophistication in the fashion world. In 1987 she became the third recipient of the MODA Award for Top Hispanic Designer.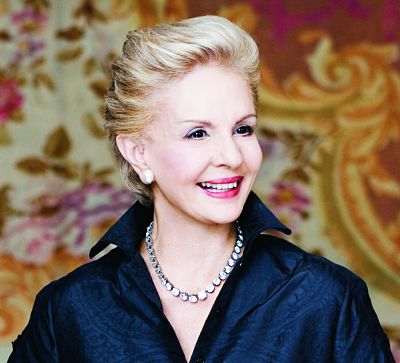 In the 1980s, Carolina Herrera made the International Best Dressed List many times and was recognized as one of the Ten Most Elegant Women in the World by Elle magazine.
Herrera loved couture and decided to design her own fashionable creations. Today she oversees an international design firm that encompasses her signature fashion collection, a bridal collection, fragrances, color cosmetics, and accessories. The House of Herrera is her castle and she is one of the world's top fashion designers.
Herrera's designs have been worn by celebrities the world over, as well as by royalty such as Princess Elizabeth of Yugoslavia, the duchess of Feria (Spain), Countess Consuelo Crespi, U.S. First Ladies Nancy Reagan and Jacqueline Kennedy Onassis, and Britain's Princess Margaret. She designed the wedding dress for Caroline Kennedy, daughter of President John F. Kennedy.
Using the best fabrics, her lines are sleek and simple, graceful and tasteful. She still believes that taste is universal and that certain elements like sophistication, elegance, luxury, and simplicity are always constant indicators of fine fashion and couture. Her impeccable suits, dresses, and gowns are indicative of her line of thinking.
Born María Carolina Josefina Pacanins y Niño, Herrera's wealthy family came from prominent landowners and statesmen. Her dashing father, Guillermo Pacanins Acevedo, was an important figure in Venezuelan military aviation. He was governor of Caracas and a pioneer of commercial aviation. Her mother, María Cristina Niño de Pacanins, was a fashionable society woman. She taught the young Herrera to look and behave with a certain grace and noble sensibility, drawing strength from discipline and structure.
Herrera attended her first couture fashion show in Paris with her grandmother when she was thirteen. The experience definitely influenced how she looked at clothes from that moment on. For her first social ball, she wore a white gown from the House of Lavin.
Herrera's first marriage ended in divorce, but in 1969 she married Reinaldo Herrera, the editor of Vanity Fair and another native Venezuelan from noble blood. She designed her own open collar, just-above-the-knee length wedding dress. They settled at Reinaldo's Venezuelan mansion, La Vega, which was built in 1590.
Their jet-set lifestyle suited Herrera. She spoke three languages—English, Spanish, and French—traveled extensively, and was elegantly dressed as she raised her four daughters.
She continued choosing her wardrobe from world-famous designers but found herself making her own adjustments to them. Eventually she started working with seamstresses—directing her ideas since she did not know how to make patterns or cut fabric. She also started designing outfits for friends.
Her friends Diana Vreeland, Vogue magazine editor, and Count Crespi urged Herrera to design a test line in 1981. Her first show was such a success, that Herrera moved her entire family to New York, where she started Carolina Herrera, Ltd.
She was creative. Dubbed "Our Lady of the Sleeves" early in her career by Women's World magazine, her trademark was plunging necklines, big fairytale sleeves, and broad-shouldered creations. She designed these outfits for women who were often at dinner banquets and seen only from the waist up.
Stores started buying her designs immediately. Her business has expanded to include collections of knitwear, handbags, leather goods, accessories, and fragrances. Her daughters have collaborated with her on various lines. Herrera won the 1987 MODA Award for Top Hispanic Designer, the third such recipient, alongside Oscar de la Renta and Adolfo.

Excerpt from: THE BOOK OF LATINA WOMEN: 150 VIDAS OF PASSION, STRENGTH, AND SUCCESS By Sylvia Mendoza
To Buy from this Latina click here.