Frida Kahlo
(Mexico, 1907–1954 )
The most famous Mexican female artist of all time, Frida Kahlo's self-portraits are unsurpassed and her work continues to gain in popularity as time passes.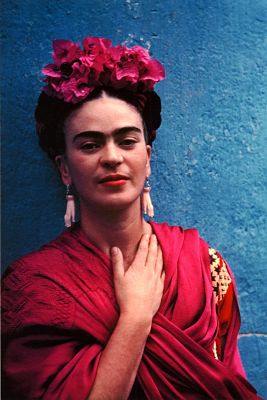 Often described as disturbing and fantastical, the paintings of Frida Kahlo have mesmerized, terrorized, and revolutionized in vivid detail. The raw emotion that her art evokes makes it clear why she is the most famous female Mexican artist.
With a third of her work said to be self-portraits, the bloody, graphic, curious, and unforgiving interpretations and creations read like an autobiography, a window into her soul and psyche. Her paintings might also have been a form of therapy for her, to help her deal with the pain and frustration of her physical limitations.
Born Magdalena Carmen Frida Kahlo y Calderon, Kahlo was just a teenager when she was in a horrific, life-altering bus accident. A metal rod had pierced her body. Her pelvis and spine were crushed; her right leg and foot were shattered. Doctors thought she would die.
She remained in a body cast for a year. Undergoing more than thirty-five operations, her fiery spirit pulled her through the ordeal just as it had when she was afflicted with polio. She would always walk with a limp, have chronic back problems, and never be able to have children, a thought that wracked her young body and filled her mind with anguish.
As she lay on her back recuperating, her mother gave her an easel and that is when she began painting. She depicted her physical pains and frustrations in each piece she painted.
Her art has often been described as surreal, but near the end of her lifetime she said, "I never painted dreams. I painted my own reality."
The third daughter of Guillermo and Matilada Kahlo, her father was a Hungarian-Jewish photographer who adored Frida's spunk. He saw a fire in her eyes and enrolled her in the Preparatoria (the National Preparatory School), the most prestigious educational institution in Mexico. There were only thirty-five girls out of 2,000 students.
When she met famed artist, Diego Rivera, she was only fifteen, yet swore she would someday marry him. Not intimidated by his loud opinionated diatribes, she built up her courage to ask for a truthful critique of her work. Her art and her flippant fearlessness impressed him.
They married and through fiery tempers and creative outbursts complemented each other artistically and politically—both were supposed communist militants. The difference in their artwork was as vast as the difference in their statures. Rivera's works were huge murals, public treasures with political overtones. Kahlo's works were disturbingly personal and revealing.
They traveled extensively throughout the world in artistic and social avant-garde circles, with Frida wearing her traditional, flowing colorful Mexican attire and braided hair. It was Diego's work the public wanted to see, however.
During a trip to Detroit, Kahlo miscarried. Her anguish is visible in her most graphic and heart wrenching self-portrait, which she created shortly after she lost the baby. They still headed for New York so that Rivera could work on another commission—an ill-fated and scandalous mural for the Rockefeller Center. He wanted to remain in the United States. She wanted to return to the land and family she loved and missed.
Their marriage ripped apart. Rivera's betrayal with her younger sister devastated Kahlo further. They divorced in 1939. She cut off her hair, dressed in men's clothes, and in her despair and anguish, hardly painted for two years—her self-imposed time of mourning.
In 1941, they remarried. Her work was also finally exhibited in New York. In France, her work was praised by Kandinsky and Picasso, had good reviews, and resulted in a sale to the Louvre.
In 1953, her debut exhibit in her homeland at the Galeria de Arte Contemporaneo in Mexico City was her crowning glory. Her health was already in severe decline and she had to be carried in on a stretcher and four-poster bed for her grand entrance.
After her death, her popularity soared. Her home, the Blue House, was eventually turned into the Frida Kahlo Museum and her works were declared national treasures. In 2003, a five-by-seven drawing entitled "Self Portrait with Curly Hair" went on the auction block at Christie's for a reported $2 million. The painting was a rare work created during Kahlo's dry spell.

Excerpt from: THE BOOK OF LATINA WOMEN: 150 VIDAS OF PASSION, STRENGTH, AND SUCCESS By Sylvia Mendoza
To Buy from this Latina click here.