Gloria Estefan
(Cuba, 1958– )
An international superstar, singer Gloria Estefan has sold more than 50 million records and has twenty Top Ten hits. She is the recipient of two Grammy Awards and has a star on the Hollywood Walk of Fame.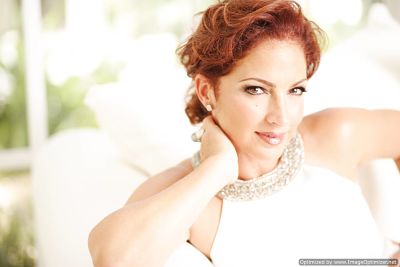 The all-male Miami Latin Boys band needed a woman to set it apart from other Cuban bands. When Emilio Estefan, the band's organizer and percussionist, asked Gloria Maria Fajardo to join them in 1975, he made the choice of a lifetime—both professionally and personally. The band became the Miami Sound Machine.
She became Gloria Estefan, famed bilingual singer and songwriter, "the Queen of Caribbean Soul." Her music, especially her ballads, had universal appeal. Estefan and the band fit together effortlessly. They blended their Latin music with pop and rhythm and blues and added Cuban, African, and Spanish beats for a unique sound.
The international superstar has sold more than 50 million records and has twenty Top Ten hits. She has completed five world tours and earned over $45 million in one year.
Estefan was eighteen months old when her family fled Cuba after her father was captured in the Bay of Pigs battle and imprisoned. When he was released and joined them in Florida almost two years later, he joined the U.S. Army. When he returned from Vietnam, he grew ill and was diagnosed with multiple sclerosis, complicated by Agent Orange exposure.
From the time she was eleven until she was sixteen, Estefan cared for her father as his condition deteriorated, as well as her younger sister, Rebecca, while her mother worked days and attended night school to become re-certified as a teacher.
The only escape she had was music. Estefan listened to her mother's records, like Agustín Lara and Celia Cruz, Johnny Mathis and Barbara Streisand. She took classical Spanish guitar lessons and soon strummed out her own tunes while giving lessons to earn extra money. She poured her heart into writing emotionally charged poetry, the start of her songwriting career. In 1989, she earned the BMI Songwriter of the Year Award.
Estefan excelled in her all-girl Catholic school. She went on to study French and communications in college. She worked as a translator at Miami International Airport while singing with the band when she could. She and Emilio kept their relationship professional until 1976, when they started dating. In 1978, they married. They had two children, Nayib and Emily Marie.
The more Estefan performed, the more her transformation from lonely, shy, and responsibility-laden young woman to a dazzling superstar became apparent. Emilio quit his management job at Bacardi to promote the band and develop his production company full-time.
In 1978, they signed with CBS Records. After a string of successful Spanish-language albums, they moved to Epic Records. Primitive Love propelled them into the international spotlight. "Conga" became their first English hit to crack Billboard's pop, dance, black, and Latin charts simultaneously. A Guinness World Record was set in 1998 when almost 120,000 people did the conga to Estefan's song in Miami.
The next album, Let It Loose, featured Estefan's ballad "Anything for You"—written hastily while she ate in a diner. Record executives reluctantly added it to the album at Emilio's insistence. The song remained on the hit charts for over a year.
In a horrific accident involving the tour bus they traveled in, Estefan's back was broken. With iron will and the support of her family, friends, and fans, she worked through a year of painful rehabilitation and was able to appear at the American Music Awards in 1991. Her 1992 Into the Light tour featured songs she wrote as she emerged from the darkness of her accident.
She has performed at the Super Bowl and the World Series. Her song "Reach," from the Destiny album, was the official theme song of the 1996 Summer Olympics. She appeared in several films, including Music of the Heart with Meryl Streep and For Love or Country: The Arturo Sandoval Story, with Andy Garcia.
Estefan was named Musician's Person of the Year in 1994 for her charitable and community efforts. She and Emilio won the 1993 Hispanic Heritage Award in the Arts. She received the American Music Award (1989), was named Crossover Artist of the Year at the Latin Music Awards (1991), and Best New Pop Artist at the Billboard Music Awards (1986). In 1993, she was honored with a star on the Hollywood Walk of Fame. She received Grammys for Mi Tierra (1993) and Abriendo Puertas (1995). She hosted the first Latin Grammy Awards in 2000. In 2014, Estefan was inducted into the Latin Songwriters Hall of Fame.
Estefan also established the Gloria Estefan Foundation, which promotes good health, education, and cultural development. Because of her deep interest in paralysis research, she supports the Miami Project to Cure Paralysis. In honor of her father, Major Jose M. Fajardo, Estefan and her husband, Emilio, made a generous donation in 2014 to the Cleveland Clinic Lou Ruvo Center for Brain Health to establish a "first-of-its-kind" program for Multiple Sclerosis patients.
Excerpt from: THE BOOK OF LATINA WOMEN: 150 VIDAS OF PASSION, STRENGTH, AND SUCCESS By Sylvia Mendoza
To Buy from this Latina click here.