Jennifer Lopez
(United States, 1970– )
Entertainer, entrepreneur and philanthropist who in 1997 became the highest-paid Latina actress ever, Jennifer Lopez was nominated for a Golden Globe and was awarded best actress from the American Latino Media Arts Awards (ALMAs). Her debut album sold 8 million copies.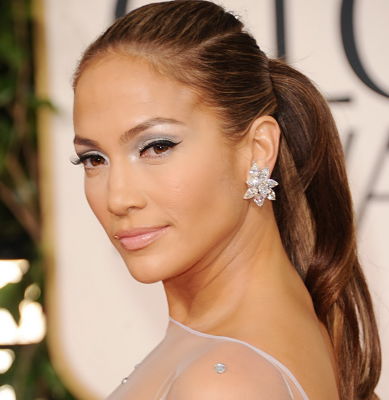 "Is ambition like a bad thing with women?" ~Jennifer Lopez
Jennifer Lopez watched West Side Story more than 100 times. Like her role model Rita Moreno, she wanted to do it all—sing, dance, act—and be successful in all three.
She started out as a dancer but in 1997 became the highest-paid Latina actress ever, earning $1 million for her part in the movie Selena, the story about the famed and murdered Tejano singer Selena Quintanilla Perez. Lopez earned a Golden Globe "Best Actress" nomination for her portrayal.
It started an avalanche of movie roles. Her commanding price skyrocketed.
Also known as J. Lo and La Lopez, the multitalented superstar of Puerto Rican descent was born in the Bronx, New York. Lopez credits her father, David, a computer technician, for her work ethic. She credits her mother, Guadalupe, a teacher, for her love of life and music. Attending Catholic schools with her two sisters, education was an important priority, as was a deep sense of faith, a firm belief in God, and family.
Her first stage break was a five-month gig dancing in the Golden Musicals of Broadway, a European tour, in 1985. A Japanese tour of the theater production Synchronicity followed. She also appeared in several music videos.
Lopez decided the timing was right to try acting. She was twenty years old when she was selected from more than 2,000 contestants to dance as a "Fly Girl" on the television comedy show In Living Color (1990). Though it wasn't acting, producer Keenan Ivory Wayans advised her to take the job to earn more experience and steady money.
It was her true launching pad, and she made many contacts while on the show. Eric Gold, the co-producer, later became her manager. Soon after, she received parts in a few television series that were short-lived, but added to her repertoire. Her big break came when she was cast by director Gregory Nava in the movie, My Family, Mi Familia (1995).
She started getting bigger roles that weren't initially intended for a Latina actress, including Money Train and Jack. Pretty soon, it didn't matter whether she was Latina or not, only that she was a convincing actress and a believable character, playing opposite celebrities such as Jack Nicholson, Robin Williams, and George Clooney.
Immersing herself in her characters, she vowed to try and research every role. Her hard work and dedication paid off. For Selena auditions, she was the only one of seven finalists who performed on four different levels— comedic acting, dramatic portray, singing (lip synching), and dancing.
Selena, she noted, was important for several reasons: It was a tribute to Selena, a steppingstone for Lopez's career, and a major breakthrough for Latinos. The big-budget movie featuring a Latino family and Latino cast was awarded best film and Lopez was awarded best actress at the 1998 American Latino Media Arts Awards (ALMAs). In addition, Gregory Nava was awarded best director and Edward James Olmos was awarded best actor at the awards.
It was while playing Selena onstage that Lopez was inspired to reach for her other dream—singing professionally. In 1999, her debut album, On the 6, hit the charts. With a mix of music she calls "Latin Soul," it sold 8 million copies.
Lopez has since appeared in many other movies, including Out of Sight, Anaconda, Enough, The Cell, The Wedding Planner, and Maid in Manhattan. More CDs and music videos have been released. When The Wedding Planner and her album, J-Lo, were released in 2001, she became the first woman to have a number one movie and album hit the charts simultaneously.
Listed as one of People magazine's 50 Most Beautiful People, Lopez has become the global ambassador for products such as L'Oreal and Fiat, her beauty captured as a pop icon. In 2006, she earned ACE's Fashion Icon of the Year award.
However, her beauty is matched by her business savvy. Continuously starting new entrepreneurial ventures, she has expanded from owning her own clothing line, fragrance line, and her own restaurant, Madres, to developing her own production company.
Her television and film production company, Nuyorican Productions, a division of Jennifer Lopez Enterprises, has produced several television shows, including The Fosters and films such as Shall We Dance. As a judge on the television show, American Idol, she brings her music career and experience to the table to help other musicians realize their dreams. She continues to donate time and money to various charities, from Boys and Girls Clubs to Children's Hospital and campaigns to help childhood obesity, among many others.

Excerpt from: THE BOOK OF LATINA WOMEN: 150 VIDAS OF PASSION, STRENGTH, AND SUCCESS By Sylvia Mendoza
To Buy from this Latina click here.