Joan Baez
(United States, 1941– )
Singer Joan Baez, known as "the Queen of Folk Music," earned eight gold records. A dedicated activist, she received the American Civil Liberties Union's Earl Warren Award for her work in human rights, among other honors.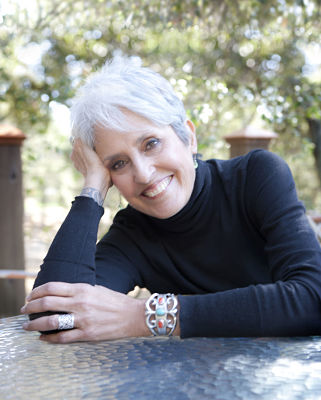 Known as "the Queen of Folk Music," Joan Baez earned eight gold records, but it was her commitment to civil and human rights that made her one of the greatest performers and activists of the twentieth century.
By the mid-1960s, her voice became the voice of young Americans, stirring them with consciousness about the Vietnam War and the civil rights movement. Songs like "Blowing in the Wind," "We Shall Overcome," and "The Night They Drove Old Dixie Down," a top Billboard hit, spoke to them.
Her father, Mexican-born physicist Albert Baez, and her mother, Joan, a Scottish immigrant teacher, raised her with nonviolent Quaker beliefs, which inspired her active crusade for peace and justice.
A victim of racism, Baez never quite fit in with Anglos because of her name and skin, and never fit in with Hispanic children because she did not speak Spanish. Her pacifist beliefs also set her apart. In her loneliness, she expressed herself creatively.
A high school essay she wrote became her life guide. In "What I Believe" she realized she was only a speck in the grand scheme of things, so her time would be better invested in helping "the less fortunate specks in the world."
While her father taught at Harvard, folksinger friends taught Baez to play the guitar. She embraced folk songs, blues, ballads, and spirituals and began playing coffeehouses and folk festivals in the Boston area by the late 1950s.
Her first record, Joan Baez, featured traditional folk songs, including a Scottish ballad and a Spanish song and was produced by Vanguard, a small label known for its quality classical music recordings.
A highlight of her singing career was performing at the Woodstock Music Festival, which drew more than 500,000 people. Its theme was "five days of peace, love, and music."
Performing with legendary entertainer Bob Dylan and other influential musicians put her in the spotlight and resurrected the mission set forth in her essay: She was in a position to do more with her life than sing.
She became involved with the antiwar movement. In 1965 she founded the Institute for Nonviolence in Palo Alto, California. She married David Harris, a leader in the draft resistance movement in 1967, and was arrested and jailed the same year for her active opposition. When the Daughters of the American Revolution refused to let her play at Constitution Hall in Washington, D.C., because of her political stance, Secretary of Interior Mo Udall gave her permission to sing at the Washington Monument. More than 30,000 people attended.
She appeared at demonstrations and sang at concerts benefiting causes she believed in. Baez became a liberal icon for racial equality, the hungry, and the oppressed, like the Hispanic farm workers in California or the "boat people" fleeing Communist Vietnam. She sang at the Lincoln Memorial for Dr. Martin Luther King's "I Have a Dream" speech.
She dedicated the 1974 Gracias a la Vida, a Spanish-language album, to her father for nurturing her optimism about life and acknowledging his decency as his legacy to her. Her autobiography, And a Voice to Sing With, was published in 1987 to critical acclaim.
Never compromising her art or political beliefs, she has survived what she calls "the ashes and silence of the 1980s," a generation she fears lacks ethical and humanitarian values. She continues her mission, serving on the board for Amnesty International. She also founded Humanitas International, which promotes human rights and nonviolence. In 1987, she joined Sting, U2, and others in Conspiracy of Hope, a concert tour celebrating Amnesty International's twenty-fifth anniversary. She appeared on the 1962 cover of Time magazine for her efforts to desegregate colleges. In 1979, she earned the American Civil Liberties Union's Earl Warren Award for her human rights causes.

Excerpt from: THE BOOK OF LATINA WOMEN: 150 VIDAS OF PASSION, STRENGTH, AND SUCCESS By Sylvia Mendoza
To Buy from this Latina click here.