Maria Hinojosa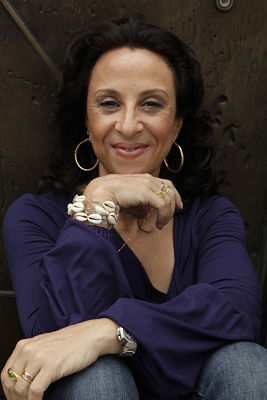 (Mexico, 1961– )
CNN's first correspondent of urban affairs, Maria Hinojosa is the recipient of numerous awards for her outstanding work in radio and television as a host, correspondent, and producer. She is also the author of several books.
Maria Hinojosa always felt invisible as a Latina growing up in her Chicago, Illinois, neighborhood. She had no one to relate to, no role models at the forefront, and no faces on the television screen that were similar to her own.
Now a hard-hitting journalist with heart, Hinojosa goes behind the scenes to get to the real stories. As the first CNN correspondent assigned to urban affairs, Hinojosa feels compelled to tell the stories of immigrants like her, those who came to the United States and felt like lost souls.
She draws from that sense of invisibility and is determined to cover the news and people in angles that not many other reporters will. She became a journalist because she wanted to see more diversity and to project a different reality on mainstream media.
The rich cadence of Hinojosa's voice also carries over the airwaves of Latino USA, a national radio program that she hosts. When she covers a Latino community, she wants the public to know that she isn't "ghettoizing" herself but is simply telling an "American" story, told from a different viewpoint, giving perhaps, a new perspective.
She has covered community stories like hunger in the suburbs, camps for homeless kids, and teenage pregnancy, but she's also covered hard-hitting pieces such as the aftermath of September 11 and its effect on families, Mexico-U.S. border issues, the Columbia shuttle disaster, and the development of AIDS resources.
Her physician father and social worker mother instilled in her the need to remain connected with her roots. To maintain that strong connection, her family spent time in Mexico every summer. From these trips, Hinojosa learned to embrace her heritage, but they also made her acutely aware of the socioeconomic disparity of the life surrounding her, whether she was in Mexico, Chicago, or other parts of the world.
Whether she covers the black, gay, or business community, a gang member, someone who is HIV-positive, or someone crossing the border without papers, Hinojosa's goal is the same: she tries to get in touch with the humanity of her interviewees because she wants to make them feel "visible."
At Barnard College in New York City, she majored in Latin-American studies, women's studies, and political economy. She gained her first radio experience as host and producer for Columbia University Radio's Nueva Canción y Demás. The show started out as a bilingual venture but turned into a monolingual Spanish show covering the arts, politics, and activism.
Prior to CNN, she worked at National Public Radio (NPR) as a general assignment correspondent. She hosted Visiones, a public affairs talk show and was the first Latina to host New York Hotline, a live prime-time talk show.
She produced several news shows including Where We Stand with Walter Cronkite, The Osgood File, and Newsbreak. She has also penned several books, including Raising Raul: Adventures Raising Myself and My Son and Crews: Gang Members Talk with Maria Hinojosa, which grew out of an award-winning news story she covered.
Hinojosa was named one of the Most Influential Working Mothers in America by Working Mother magazine, and one of Hispanic Business magazine's 100 Most Influential Latinos in the United States. She was presented the Robert F. Kennedy Award for her NPR story, "Manhood Behind Bars." She received the Latino Heritage Award from Columbia University, the Associated Press Award, and the National Association of Hispanic Journalists Radio Award. The National Council of La Raza awarded Hinojosa the Ruben Salazar Award in recognition of her dedication to promoting a positive portrayal of Latinos.

Excerpt from: THE BOOK OF LATINA WOMEN: 150 VIDAS OF PASSION, STRENGTH, AND SUCCESS By Sylvia Mendoza
To Buy from this Latina click here.