Salma Hayek
(Mexico, 1966– )
Producer, director, and actress Salma Hayek is honored as the first Mexican Latina to obtain leading roles in Hollywood since Dolores del Río. She has received numerous awards for her work, including a best actress Oscar nomination.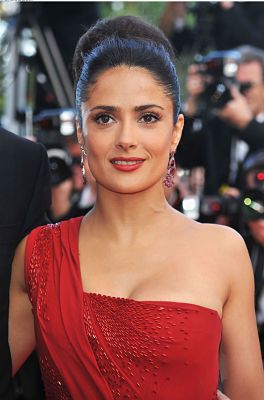 Nadia Comaneci was Salma Hayek's hero when she was a young girl. Hayek believed she could accomplish anything if she put her mind and hard hours into it, including becoming a world class gymnast. At the age of eight, she was chosen to train for the Olympics. Her father refused to let her go, citing that she needed family, friends, and a normal childhood.
The experience saddened Hayek, but at the same time it fueled her determination to leave her small town. The road from home eventually led to Hollywood. Her passion and talent transferred to the stage and silver screen.
Hayek is honored as the first Mexican Latina to obtain leading roles in Hollywood since Dolores del Río in the 1940s. Named one of the fifty most beautiful people in the world by People magazine, her smoldering and sexy persona gave her stage and soap opera fame in Mexico before she even ventured to Los Angeles in 1990 to pursue her acting career. She has since become a producer and director.
Born in Coatzacoalcos, Mexico, to a Lebanese businessman father and a Mexican opera-singer mother, she was sent to a Catholic boarding school in Louisiana. Because of the incessant pranks she pulled, her parents were asked to take her back after two years. She finished high school early and entered Universidad Iberoamericano in Mexico City, where she studied drama and international relations. She dropped out to pursue acting.
Discovered by a television producer while in a stage production, she was cast in her first television series, Nuevo Amanecer, and won the 1989 TV Novela Award for best newcomer. It catapulted her to a new series, Teresa, an instant hit in Mexico. It was syndicated to over thirty countries and thrust her into the international spotlight.
Her first starring role in the United States came opposite Antonio Banderas, in Robert Rodriguez's Desperado (1995). Her film credits include From Dusk Until Dawn (1996), Fools Rush In (1997), The Hunchback (1997), 54 (1998), Breaking Up (1998), Wild Wild West (1999), Traffic (2000), and Once Upon a Time in Mexico (2003).
Returning to Mexico in 1995, she starred in El Callejon de los Milagros (Midaq Alley), which landed her a nomination for an Ariel, the Mexican version of an Oscar. At this time, she also appeared in television series, including Sinbad (1993), Nurses (1991–1994), and HBO's Dream On (1990–1996).
She produced and starred in the film Frida (2001), about famed Mexican artist Frida Kahlo (see her biography this book). She fought for seven years to make the film, battling interest from Jennifer Lopez and Madonna and going through hundreds of scripts with producer Nancy Hardin. The wait paid off. Hayek received critical acclaim and her first best actress Oscar nomination for her role as Frida.
Hayek was also the working producer of In the Time of the Butterflies, a Showtime movie about the Mirabal sisters of the Dominican Republic who led resistance against dictator Rafael Trujillo (see their biographies in this book). Hayek received a standing ovation for her directorial debut at the Sundance Film Festival (2003) for The Maldonado Miracle, another Showtime movie.
In 2006, Hayek became an executive producer of the hit television series Ugly Betty, which was based on the telenovela Yo Soy Betty La Fea. It earned a Golden Globe for best comedy in 2007. She continues to pursue her producing career path.
Uncompromising in strength and sass, she once said, "I keep waiting to meet a man who has more cojones than I do." In 2009, she married French billionaire, Francois-Henri Pinoult. Their daughter was born in 2007.
Her magnetism continues to live on screen and off. She and Antonio Banderas earned a joint nomination for an MTV Movie Award for Best Kiss. She won the Blockbuster Entertainment Award for favorite supporting actress in an action movie for Wild Wild West. Frida was named best picture and Hayek won both the best actress and the Creative Achievement Award for the film at the 2003 Imagen Awards. Hayek started the Salma Hayek Foundation, in efforts to be the voice for women's rights, speaking on violence against women, discrimination against immigrants, as well as various children's health and related issues.

Excerpt from: THE BOOK OF LATINA WOMEN: 150 VIDAS OF PASSION, STRENGTH, AND SUCCESS By Sylvia Mendoza
To Buy from this Latina click here.