Selena
(United States, 1971–1995 )
The first female Tejano artist to earn a gold record and the first singer to have five Spanish-language singles simultaneously on the Billboard 200, Selena received a Grammy Award for best Mexican-American album and at one time was the number one Latina singer in the United States and Mexico.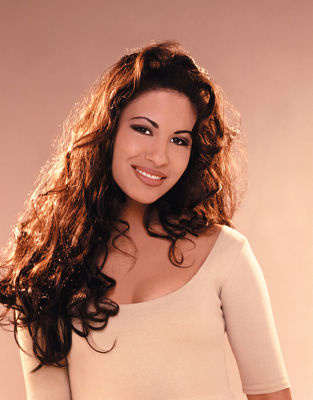 More than 50,000 people showed up for Selena Quintanilla Perez's funeral in Corpus Christi, Texas, on April 2, 1995. Selena—"the Queen of Tejano Music" and the number one Latina singing sensation in the United States and Mexico at the time of her death—was only twenty-three when she was shot and killed by the president of her fan club.
Selena's appeal had obviously gone deeper than her music. She created a legacy as she stole the hearts of Mexican Americans, gave them a voice, and brought them worldwide recognition through culture, language, and music.
Born in Lake Jackson, Texas, Selena started performing in the family-owned restaurant that later went defunct when she was eight years old. Her father, a former musician, organized Selena y Los Dinos, which included Selena's brother Abraham (A.B.), who played guitar, wrote songs, and would later produce her records. Her sister, Suzette, played drums. Her mother worked lighting. Other musicians joined the band, including bass player Chris Perez, who would become Selena's husband in 1992.
Los Dinos started playing gigs with traditional ranchera classics of the Texas-Mexican borderlands. A.B. also wrote songs incorporating rhythms from Mexico and South America, embracing cumbias, salsa, rock, pop, and other musical styles. Selena took his songs, gave them her own twist, then adapted them to fit the instrumental preferences of the cities they performed in.
Raised speaking only English, Selena's parents taught her Spanish on the road so they could target a Mexican market. When she was just fifteen, Selena won the Tejano Music Award for performer of the year and female vocalist in 1987. She won this award every single year until her death.
In 1989, Selena signed with the newly launched EMI Latin label. They wanted her to be "the next Gloria Estefan." She gained national recognition with her 1991 album Ven Conmigo. It made her the first female Tejano artist to earn a gold record.
In 1994, a banner year of achievements for Selena, she signed an international recording contract with SBK Records, which produced English works. Amor Prohibido knocked Estefan's Mi Tierra out of the number one spot, went platinum, and featured four number one singles.
Selena earned best female artist, best female vocalist, and best "grupo" album of the year at the 1988 Tejano Music Awards. Selena Live won the Grammy Award for best Mexican-American album. She became the first singer to have five Spanish-language singles simultaneously on the Billboard 200. She also appeared in the movie Don Juan de Marco, starring Marlon Brando and Johnny Depp.
She performed to sellout crowds like the 60,000 who filled the Houston Astrodome in 1993. Dressing in skin-tight pants, short skirts, and low-cut bustiers—many of which she designed herself—Selena was the Mexican-American Madonna—without the controversy.
Earning $5 million annually, she was listed by Hispanic Business magazine as one of the top twenty wealthiest Latino entertainers—and the first Tejano artist—to ever make that list.
Selena ventured into designing her own clothing line. When she opened two boutiques, she hired Yolanda Saldivar, the president of her fan club, to run them. The Quintanilla family confronted Saldivar for embezzlement. At a private meeting on the eve of Selena's third wedding anniversary, Saldivar shot Selena, who later died. Saldivar was later sentenced to life imprisonment for her death.
After her death, Selena's popularity soared. Her debut crossover album, Dreaming of You, sold nearly 350,000 copies the first week and hit triple platinum. Featured on the cover of People, the magazine sold more than 900,000 copies. A commemorative issue followed—only the third in the magazine's history at the time. The reaction to Selena helped launch People en Español. Billboard magazine later declared Selena "Latin Artist of the Decade." The Selena Lifetime Achievement Award is now presented at the Tejano Music Awards ceremony annually. The first recipient was Selena's brother, A.B. Quintanilla.

Excerpt from: THE BOOK OF LATINA WOMEN: 150 VIDAS OF PASSION, STRENGTH, AND SUCCESS By Sylvia Mendoza
To Buy from this Latina click here.