Suzanna Guzman
(United States)
World-renowned opera singer of stage, film, and television, and recipient of the Placido Domingo Award for contributions to the Latino community.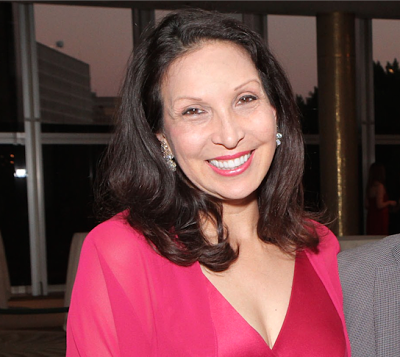 Suzanna Guzmán wanted to break stereotypes about opera singers. She learned that many Latino children had preconceived notions of what a female opera singer looked like. She was big, wore blond braids, sang really loud, and was intimidating.
When they met Guzmán, the only thing that fit the image was that "she sang really loud."
A world-renowned mezzo-soprano, Guzmán performs in operas around the world, but she has also made it her mission to enlighten others about opera, especially Latino children, through her one-woman show, Don't Be Afraid, It's Just Opera.
She herself never knew opera until she was practically immersed in it. Growing up in East Los Angeles, Guzmán was the daughter of a firefighter father and a stay-at-home mother. In school, she loved to sing and act and be the class clown. Her biggest musical influence was her grandmother Avilia, who belted out Texas rancheras at the top of her voice at the drop of a hat. It gave Guzmán goosebumps, and she wanted to have that same effect on others with her own voice. Even though she never had piano or voice lessons, there was always music around the house, and she joined a rock band when she was eighteen. She played weddings, small gigs, and a short stint of small towns in a northwest circuit tour.
A friend urged her to take voice lessons to make sure she did not damage her voice completely. Shortly thereafter, she auditioned for Carmen—and got the title role. She had always loved languages, theater, and passion, and Carmen had it all.
Even without the extensive operatic background, she played the part for one year, but the experience made her want to learn to read music, develop her repertoire, and learn other languages. Once she did, the opera world opened up to her in all its glory.
Guzmán has appeared with many international opera companies including the Metropolitan Opera, Kennedy Center's Washington Opera, Geneva's Grand Théâtre, l'Opéra de Nice, and Dresden Musikfestspiele. She has brought hundreds of classical characters to life in Carmen, Rigoletto, Madama Butterfly, La Traviata, Goya, and many other performances.
As an associate artist with the Los Angeles Opera and an alumna of Ezio Pinza Council for American Singers of Opera, Guzmán also enjoys taking risks to perform in new works, such as Gabriel García Márquez's Florencia en el Amazonas. Florencia was the first Spanish-language opera written for a United States opera company and used Spanish magic realism.
Guzmán has appeared in film, television, and in musical theater productions such as The King and I, opposite Yul Brynner, Showboat, Carousel, and West Side Story. She works with inner-city schools with the Bilingual Foundation of the Arts and the University of California, Los Angeles (UCLA) outreach group, Design for Sharing. As host of a weekly radio show, Los Angeles Opera: LIVE! she promotes a better understanding of opera for the public.
Guzmán received the Placido Domingo Award for her community work and was honored as one of the nation's Outstanding Latinos in Music, a Triumfadora (success) in the Silver Millennium 2000 magazine edition of People en Español. She received the El Angel Award from the Bilingual Foundation of the Arts and was honored by NBC in 1995 for her contributions as a role model to the Latino community in a profile, "Suzanna Guzmán, Outstanding Latina."

Excerpt from: THE BOOK OF LATINA WOMEN: 150 VIDAS OF PASSION, STRENGTH, AND SUCCESS By Sylvia Mendoza
To Buy from this Latina click here.