Latina Icon - Cristina Saralegui
(Cuba, 1948– )
Emmy Award-winner Cristina Saralegui is the first and only Hispanic to host daily television programs in two languages and the only Latina to run a television variety talk show, a radio show, and magazine simultaneously.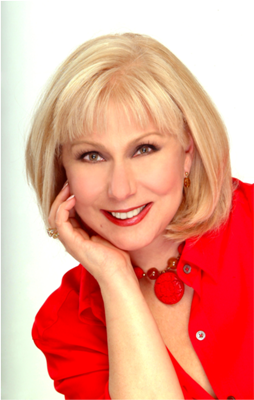 Give Cristina Saralegui an hour, a taboo subject, and an audience and she will provide pure unadulterated entertainment. Known as "the Latina Oprah," or "Oprah with Salsa," the Havana-born Saralegui hosted El Show de Cristina, reaching more than 100 million viewers worldwide.
When the show first started in 1989, finding guests that would be willing to talk about controversial issues was her first hurdle. Another issue was dealing with conservative and influential entities that thought she might threaten traditional values.
Saralegui also had to face racism directed at her. Initial responses accused her of being too white to represent Hispanics. Saralegui quickly countered with a simple statement that Latinas are beautiful in every shade of colored skin.
After the first show, Cristina said she received letters that she would not show her pastor, gynecologist, or husband. It was not difficult to get guests to come on the show after that.
The visionary Saralegui is the only Latina to have a television variety talk show, a radio show, and magazine simultaneously running. She is the first and only Hispanic to host daily television programs in two languages, English and Spanish. The show has won ten Emmy awards. El Show de Cristina was a second career for the outgoing, yet hard-hitting, Saralegui. With a background in creative writing and twenty years in the publishing business, she already knew how to interview, hit a compassionate note, and give people a forum where they could speak up about taboo subjects. Her roots were in journalism.
As an heir to her family's publishing business, which produced magazines such as Bohemia, Carteles, and Vanidades, Saralegui took after her publishing guru grandfather, Don Francisco Saralegui. Don Francisco, also known as "the Paper Czar," inspired her to try publishing as a living.
When the family left Cuba in 1960 and settled in Miami, Cristina was only twelve years old. She attended the University of Miami, studying communications and creative writing.
She became an intern at Vanidades, a magazine her grandfather had created back in Cuba. She had to teach herself to write in Spanish since her higher education had all been in the United States and in English.
Working at several publications, she proved her own innate talents for writing and editing. She went on to become the editor-in-chief of Cosmopolitan en Español. After ten years, she left the print journalism world to produce and host her own television show on Univision, a Spanish-language network.
A radio segment called Cristina Opina (Cristina's Opinion) allows her to share motivational and inspirational messages with her audience. As a spinoff from the show, she co-publishes Cristina La Revista (Cristina the Magazine).
She and husband, Marcos Avila, started an AIDS awareness foundation called Arriba la Vida/Up with Life. She is a member of the National Council of the American Foundation for AIDS, and is on the board of the National Association of Hispanic Journalists.
Saralegui received the Outstanding Communicator of the Year Award from the National Organization of Women in Communication for bringing the concerns of the Latin community to mainstream media. She has also received the Corporate Leader Award from the National Network of Hispanic Women and the Distinction for Leadership and Communications and Broadcasting Award from AMFAR (American Foundation of AIDS Research) for her commitment to AIDS education in the Spanish-speaking world.
Saralegui sees her parents, who have been married for sixty years, as role models. Her family is her foundation, and the closeness of her husband and three children all inspire her.

Excerpt from: THE BOOK OF LATINA WOMEN: 150 VIDAS OF PASSION, STRENGTH, AND SUCCESS By Sylvia Mendoza
To Buy from this Latina click here.