Daisy Fuentes
(Cuba, 1966– )
The first Latina VJ for MTV and the first to appear on both the Spanish-language and original version of MTV, Daisy Fuentes is a well-known model, actress, host, and emcee.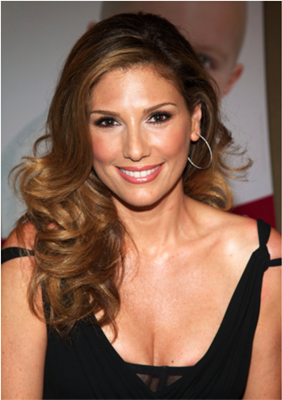 As a pop culture icon, Daisy Fuentes is hip, attractive, and in the know. Modeling may have made her face recognizable the world over, but her career took off when she became the first Latina VJ (video jockey) for MTV, the cable television music network.
She was the first VJ to appear on both the Spanish-language and original MTV. The gig has made Fuentes a natural with a microphone in her hand and she appears regularly on talk shows, variety shows, sit-coms, and beauty pageants.
Fuentes has interviewed hot bands, singing sensations, celebrities, beauty queens, fitness gurus, and athletes. A bilingual gem, she travels to Latin-American countries where MTV Latino is syndicated, such as Mexico, Paraguay, and Venezuela.
Born in Havana, Cuba, Fuentes was raised in Madrid and came to the United States when she was seven. The transition to an Anglo community was not easy at first, but she blossomed, even becoming the first Latina homecoming queen for her high school.
In college, she studied journalism and communications and in 1988, she landed her first television break as a weather girl. Working her way up to reporter and anchor for the evening news of Univision's New York affiliate station, she built up her courage to send in a demo tape to MTV. MTV was sold on her television presence and bilingual capabilities, and she quickly made her mark on the Latino television community as host of MTV Internacional.
MTV was her launching pad. She went on to host several MTV programs including One on One with Michael Jordan and Fashionably Loud. She had her own talk show, Talk All-Stars, on CNBC and became cohost of the family show, America's Funniest Home Videos. She has appeared in several television shows, including sitcoms and soap operas such as Larry Sanders, Cybill, MAD TV, and Loving.
A vivacious and charming on-air personality with a sense of humor, she has emceed the Miss Universe Pageant, American Music Awards, Latino Laugh Festival, Billboard Latin Awards, the Alma Awards, Dick Clark's New Year's Rocking Eve, World Music Awards, MTV U.S. Top 20 Countdown, and the MTV Video Music Awards.
As an icon for fashion, Fuentes has also hosted shows like Styleworld on the Women's Entertainment Network. The show features exotic locations and their local attractions, specialty shops, boutiques, artists, and restaurants.
Representing the Revlon cosmetics and fragrance lines, Fuentes was already used to the spotlight before she went on international television. She has appeared on magazine covers such as Vanidades and Harper's Bazaar, Cosmopolitan en Español, Fitness, Latina, and Shape. She has also produced exercise videos and swimsuit calendars.
Fuentes realizes that being a Latina celebrity in mainstream America brings with it responsibility. Honored as an Outstanding Woman in Media by the Latin Coalition for Fair Media, she brings visibility to the Hispanic community in a positive way.
Fuentes uses her position and voice to heighten awareness of various health issues and organizations. She works with the Pediatric AIDS Foundation, St. Jude's Hospital, and the Starlight Children's Foundation, which makes the wishes of seriously ill children come true. As a daughter of a breast cancer survivor, Fuentes is also active with the University of California Los Angeles/Revlon Breast Cancer Research campaign.

Excerpt from: THE BOOK OF LATINA WOMEN: 150 VIDAS OF PASSION, STRENGTH, AND SUCCESS By Sylvia Mendoza
To Buy from this Latina click here.