Linda Alvarado
(United States, 1951– )
A successful businesswoman who established a thriving business in the male-dominated construction industry, Linda Alvarado was the first Hispanic to become owner of a professional baseball team and was inducted into the National Women's Hall of Fame.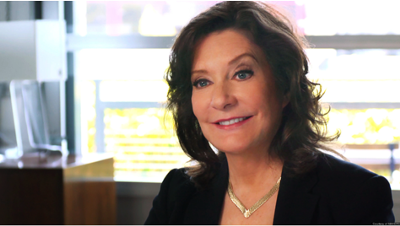 "What I hope for and long for is the day when people will truly be judged not based on where they came from and their gender, but really on their ability." ~Linda Alvarado, Constructing a Better America, www.usdreams.com
Born Linda Martinez in Albuquerque, New Mexico, Alvarado's strong work ethic came from her religious family, whose roots in the state dated back to the 1500s. Her parents, a homemaker mother and a father who worked at the Atomic Energy Commission, had the same expectations from all their children—to excel academically and athletically, despite their occasional run-ins with racism.
Having grown up the only daughter surrounded by five brothers, she was not intimidated by men. In fact, she thrived on her competitive nature, which helped in the business realm, and eventually in the construction industry. Ignoring chauvinistic remarks and unflattering graffiti aimed at her, Alvarado walked onto construction sites determined to succeed in a very macho industry.
Her business savvy and passion for watching construction projects develop from the ground up gave her the impetus to start her own general contracting firm—Alvarado Construction, Inc. Her nontraditional career also led her to become part owner of the professional baseball team, the Colorado Rockies.
Alvarado had a college degree in a nonrelated field when she started working as a contract administrator, working her way up to the construction management group and learning every phase of the construction business. She liked it so much, she returned to school to take classes that included estimating blueprint and critical-path method scheduling.
She earned her credentials as a contractor and was ready to get to work with her new Denver-based company.
Six banks turned down her loan application. Finally her parents loaned her $2,500 and she mortgaged her house to start up. When she bid on potential jobs, however, she was looked at rather incredulously. A woman in a hardhat just didn't look the part and wasn't taken seriously. It seemed she was turned down for her inexperience, for being a woman, and for being Hispanic.
When she convinced another construction company to bid on a project with her and got the job, she worked hard to prove her ability. The end result was a fine job that also started her portfolio.
Tenacity and perseverance paid off and opened other doors. She became the first Hispanic—male or female—to become owner of a professional baseball team. The investment showed that a woman could thrive in non-traditional fields. She also thought that there were exceptional Hispanic role models in baseball, and seeing a Latina team owner would bring the sport full circle.
Alvarado Construction specializes in commercial, industrial, environmental, and heavy engineering projects throughout the western United States. The company has built huge projects including the Colorado Convention Center, the Navy/Marine Training facility in Aurora, and the High Energy Research Laboratory.
Alvarado was director of the National Hispanic Scholarship Fund and commissioner of the White House Initiative for Hispanic Excellence in Education. She has been recognized twice as the United States Hispanic Chamber of Commerce Businesswoman of the Year and was listed as one of the 100 Most Influential Hispanics in America by Hispanic Business magazine (1996). She was inducted into the National Women's Hall of Fame in 2003.

Excerpt from: THE BOOK OF LATINA WOMEN: 150 VIDAS OF PASSION, STRENGTH, AND SUCCESS By Sylvia Mendoza
To Buy from this Latina click here.