Lisa Guerrero
(United States, 1964– )
At one point the only woman to work simultaneously as a sportscaster and an actress, Lisa Guerrero has achieved many "firsts" for women in sports news.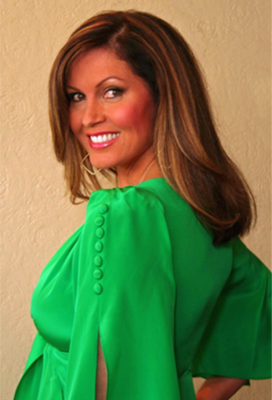 "If you look good, people assume you aren't credible. It's a battle you'll always fight if you're on TV and a female. The bottom line is: I know my sports." ~Lisa Guerrero
When her mother died, Lisa Guerrero was only eight years old. Her father enrolled her in theater therapy to help her cope with the devastating loss. It helped. It also sparked a passion for acting.
As she grew older, her father signed her up for team sports like basketball, volleyball, and softball—where she excelled as a pitcher and first baseman. Sports brought out the best in her.
If there was one thing Guerrero loved, it was sports. She knew them inside and out and could debate stats, names, and the history of any given team or athlete. Until 2004, she was a sideline reporter for ABC's Monday Night Football.
In 1999 Guerrero was hired by Fox Sports Network as an exclusive broadcast journalist for Fox Overtime and Fox Extra Innings, and she served as a cohost on Sports Geniuses and other shows before landing "the big one."
Guerrero was the national sports update anchor and the only woman on Fox's The Best Damn Sports Show Period. She has scored virtually impossible-to-get interviews, including Bobby Bonds and Dennis Rodman. She even made Rodman, the bad boy of basketball, cry in an interview.
Even as a self-described "girly-girl," she built her reputation as one of the most capable female reporters in sports. She is the only woman to ever host a NFL team magazine show, Chargers Magazine, and at one time was the only Latina sportscaster in Los Angeles, California. When she won a spot on Aaron Spelling's daytime drama Sunset Beach and a sports casting job with KCBS on the same day, she would become the only woman to work simultaneously as an actress and as a sportscaster. For one year, she was a soap opera villain working Monday through Friday using her father's last name, Coles. On the weekends, she worked as a sports reporter using her mother's name, Guerrero.
She also had a regular reporting gig on EXTRA!, a television entertainment magazine.
Guerrero finally decided to go full time with sports broadcasting because of the opportunities. Speaking Spanish and English gave her an edge on getting the scoop on Spanish-speaking athletes.
On The Best Damn Sports Show Period, she would not compromise her femininity to prove she knew her stuff. She refused to change her appearance at the suggestion of a network executive who thought she should look more conservative by wearing suits and no makeup and by limiting her smiling. The president of the station backed her, however, and accepted her personal style.
When she once went fifty-one consecutive weeks without a day off, she was recognized as "the hardest working person in sports" by the Los Angeles Times. The recognition meant a lot—because it was based on her work ethic, not on her being a woman.
Guerrero took the roundabout way of getting her coveted position as a sports anchor. She started as a cheerleader for the Los Angeles Rams, then worked as a choreographer for a cheerleading team. She was a sports marketing executive in the World League of American Football and the International Basketball Association.
When she made it to Hollywood, she modeled, appeared in more than 200 commercials, and appeared on television shows like Cybill, In the Heat of the Night, Matlock, and Frasier. Her movie appearances include Batman Returns, Fire Down Below, and Love Potion No.9. At the invitation of President Bush in 2003, Guerrero hosted a Hispanic Heritage Month banquet at the White House. In 2011, she won the prestigious National Headliner Award for her investigative reporting with Inside Edition.

Excerpt from: THE BOOK OF LATINA WOMEN: 150 VIDAS OF PASSION, STRENGTH, AND SUCCESS By Sylvia Mendoza
To Buy from this Latina click here.