Nancy Lopez
(United States, 1959– )
The youngest woman to be inducted into the LPGA Hall of Fame, Nancy Lopez won a record-breaking number of tournaments during her career and helped put women's golf on the map.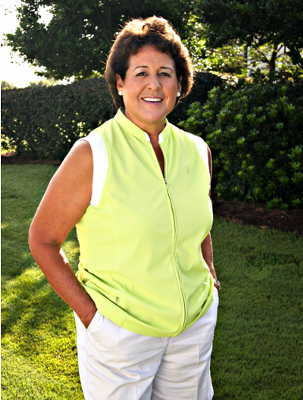 Women's golf in the 1970s was synonymous with Nancy Lopez. Regarded as the best woman golfer of all time, her record-breaking first year in the pros stunned crowds and set new standards for women's golf.
She took the golf course by storm, turned people on to women's golf as a spectator sport, and fostered an appreciation for the Ladies Professional Golf Association (LPGA). She accumulated such a fan base that it became known as "Nancy's Navy."
Lopez was born in California but raised in New Mexico. The entire family took up golf to help improve her mother's health. When she was only eight years old, Lopez's father, Domingo, cut down a four wood to her size. She started swinging the club every chance she could. By the time she turned eleven, she beat both her mother and father on the course.
When Lopez quickly became championship material, her parents sought ways to supplement her learning experience and made many sacrifices to get her onto challenging courses. They could not afford—and were not allowed—country club membership. They took detours in stride, and Domingo remained her coach.
Making her amateur debut at the age of twelve, Lopez won the New Mexico State Women's Amateur Championship and placed second in the Women's Open. By the time she was sixteen, she was among the top-ranked amateurs in the world.
Lopez became the first female student to join her high school golf club and won the USGA Junior Girls Championship, the Western Junior, and the Mexican Amateur in 1975. On scholarship, she entered the University of Tulsa, Oklahoma. In 1976, she turned All-American and was named the Tulsa University Female Athlete of the Year. She went on to win the intercollegiate title.
While a college sophomore in 1975, she turned professional. Her debut year was phenomenal. She was named Rookie of the Year and Female Athlete of the Year.
Lopez joined the LPGA in 1977 and in 1978 won nine tournaments, including a record five in a row. This included the prestigious LPGA title. She set other LPGA records, including her 275-stroke total for the 72-hole LPGA Championship.
In 1979, she was named Pro Golfer of the Year, winning eight tournaments and accumulating more than $1 million that year.
Her best year was in 1985 when she earned more money than any other player on the circuit. This was followed by her induction into the LPGA Hall of Fame in 1987. She was the youngest woman ever to be elected, which requires thirty-five official tournament wins. In 1989, she was inducted into the Professional Golf Association's World Golf Hall of Fame and won her third LPGA Championship that year.
By 1998, she had forty-eight career victories with over $3 million in earnings. The grueling schedule of balancing more than twenty tournaments a year along with raising a family and dealing with physical ailments took its toll.
It took Nancy two years to regain her strength after knee surgery repercussions and get back to playing. She announced that her twenty-fifth LPGA season in 2002 would be her last.
Lopez now serves as a goodwill ambassador of golf. She devotes the rest of her time to her husband, ex–New York Mets third baseman Ray Knight, their three children, and to the American Heart Association and Aid for the Handicapped.

Excerpt from: THE BOOK OF LATINA WOMEN: 150 VIDAS OF PASSION, STRENGTH, AND SUCCESS By Sylvia Mendoza
To Buy from this Latina click here.