Rosemary "Rosie" Casals
(United States, 1948– )
Seven-time Wimbledon champion and hall of famer who fought for women's equality in tennis and made her mark on the tennis world with her unique style and flair.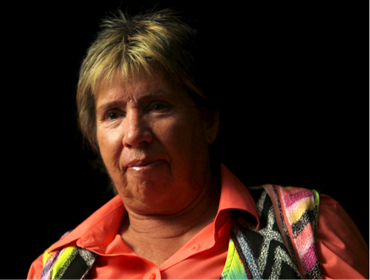 Fighting for equality was a sign of the times in the 1960s. Tennis star Rosie Casals was considered a rebel who believed women had a destiny in professional tennis and deserved equal rights on the courts.
A tireless advocate on behalf of women and women athletes, Casals was instrumental in helping women gain prestige, money, and recognition at the professional level. She was a major force behind many of the controversial changes that shook the tennis world, leading to the women's tennis boom of the 1960s and 1970s.
The seven-time Wimbledon women's and mixed doubles champion came from an immigrant family from El Salvador, a family so poor, she and her sister had to be raised by their aunt and uncle, Maria and Manuel Casals. Manuel saw their need for an outlet and took them to the public tennis courts of San Francisco, California.
He would be the only tennis coach Casals would ever have. She was a natural on the courts and by the time she was a teen, she was bored competing in junior tournaments. She counted the days when she could play on the women's circuit.
But what Casals learned once she got there began another uphill battle. She not only had to face being a woman in a man's arena but also being poor and Latina in a sport that had a tradition of being exclusive.
Despite the obstacles, by age seventeen Casals ranked number five in the world and was in the U.S. women's top five. She would remain there for the next eleven years. Her career skyrocketed, especially when paired with the outspoken Billie Jean King. They became the most winning female doubles combo.
Casals challenged the controlled environment of the country club set. She wanted to get the recognition and praise she deserved for her all-out, aggressive efforts by hearing real clapping. She turned heads when she showed up to play in clothes that were not completely white. When she appeared at Wimbledon in a dress lined with purple squiggles, spangles, and sequins, the referee evicted her from the courts, sending her off to change her clothes. She complied but continued to push the envelope to change the white-dress restrictions. Since only the wealthy could afford to remain amateurs, Casals fought to get tennis recognized as a professional sport so that athletes could earn a living from what they did best.
Casals was one of the first women to claim professional status but became disillusioned when she saw the vast difference in prize monies between male and female players. She and other women players threatened to boycott USTA tournaments if changes weren't made. The USTA ignored their threats. The women found support from the media and from Gladys Heldman, editor of World Tennis magazine.
Casals became a pioneer of the Women's Tennis Association, seeking sponsors who saw the value of promoting professional women's sports. She and Billie Jean King were among the original nine founders who laid the groundwork for the association.
In 1970, Casals became the first winner of the Virginia Slims Invitational, a professional women's tennis tournament, and took home the top prize of $1,600. The seven players who participated in this tournament were suspended by USTA.
Still they continued. They played twice as many tournaments to earn a few thousand dollars in minimal award money, while paying their expenses out of pocket, but their pioneering efforts opened doors for future female players.
Casals pushed through those doors. Playing a record 685 tournaments in her lifetime, in 1973 Casals won the largest purse ever awarded to any female at that time—$30,000—for a women's single event in the Family Circle Cup. In a tournament in 1988, she won over $1 million. Casals served as the color commentator alongside Howard Cosell in the infamous "Battle of the Sexes" between Billie Jean King and Bobby Riggs.
She continues to promote women and their athletic careers. Her marketing company established a "Tennis Classics Tour," a circuit tour for women and men over the age of thirty who have won a Grand Slam title or earned $1 million in prize money.
Working with Billie Jean King, she supports tennis opportunities for disadvantaged young girls. In her San Francisco community, she served as an athletic ambassador to bring the 2012 Olympics to her hometown. She sponsors a Rosie Casals Celebrity Tennis Invitational and still plays on the senior Invitational at Wimbledon and the U.S. Open. In 1996 Casals was inducted into the International Tennis Hall of Fame.

Excerpt from: THE BOOK OF LATINA WOMEN: 150 VIDAS OF PASSION, STRENGTH, AND SUCCESS By Sylvia Mendoza
To Buy from this Latina click here.