Rossana Rosado
(United States, 1962– )
First Latina and among the first women to hold a position as editor in chief, publisher, and CEO of a major newspaper, Rossana Rosado is the recipient of numerous awards for her work in print, radio, and television, including an Emmy.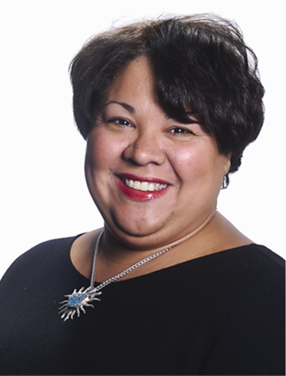 Raised in the Bronx, Rossana Rosado loved words ever since she was a little girl and dreamed of writing books. Her stellar career in journalism was different from her intended path.
She expressed a desire to teach for a living but a high school teacher commented that her accent would be a problem. She did not have an accent. The complete lack of support did not stop Rosado.
Instead, she took the different road. She earned a bachelor's degree in journalism from Pace University and worked at various radio and television stations. In the field, however, she once again met with resistance. Even though English was her dominant language, she worked for a variety of Spanish-language newspapers, earned a reputation as an excellent journalist, and had a substantial number of impressive clips when she went to an English-language newspaper to apply for a job she really wanted. She was turned down.
Disappointed and a bit disillusioned, she was still determined to advance in her career in different ways. She worked the public relations field for two New York City mayors, David Dinkins and Rudy Giuliani, which would give her new insight when she returned to print and broadcast journalism.
The rejections and detours only inspired her to try harder and go farther until she landed at El Diario/La Prensa, the largest Spanish-language newspaper in the United States. She started as a layout artist but was given a chance to be a reporter—without pay. When she scooped a big story away from a major New York City daily newspaper, El Diario hired her, with pay.
She worked her way up the ranks until in 1995, she became editor-in-chief of the newspaper. In 1999, she became Publisher and CEO. She was the first Latina, and one of just a few women in the United States, to hold these positions at a major newspaper.
At WPIX-TV, she was producer of a public affairs program and the producer of Best Talk in Town. She won an Emmy Award for her public service campaign "Care for Kids." She also won the New York State Broadcaster's Award and the Folio Award.
As publisher, Rosado, who is of Puerto Rican descent, realizes the responsibility she has to empower the Latino community and that she is in a powerful position to evoke change.
Circulation increased under her leadership. Building an Internet site and producing an English-language edition were major goals. An El Diario book club was started to debunk the myth that Hispanics don't read. Leyendo con Rossana (Reading with Rossana) was launched in 2002. In the monthly column Rosado recommends fiction, poetry, nonfiction, and children's literature written in Spanish or by Latinos in English. The only criterion is that they "tell the story of Hispanics in America."
Rosado also strives to advance women through networking opportunities and the way they are portrayed within the content of the newspaper.
Rosado was honored with a Women of Excellence Award, presented by the governor of New York in 2002. Her community work includes service with Acción New York, the American Red Cross, Caribbean Cultural Center, Partnership for a Drug-Free America, St. Chrisopher's, and the United Way.

Excerpt from: THE BOOK OF LATINA WOMEN: 150 VIDAS OF PASSION, STRENGTH, AND SUCCESS By Sylvia Mendoza
To Buy from this Latina click here.