Sandra Cisneros
(United States, 1954– )
The first Latina to receive a major publishing contract and a leading writer in Latino literature, Sandra Cisneros is a recipient of the MacArthur Foundation "genius prize" and the National Endowment for the Arts fellowship in fiction.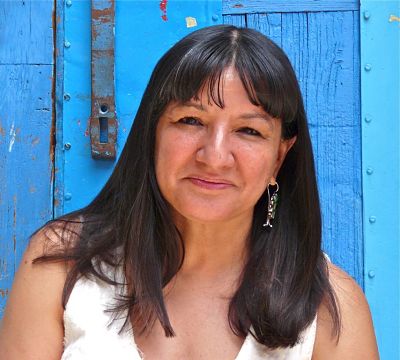 "I am determined to fill a literary void." ~Sandra Cisneros, Profile by Andres Chavez
She has called herself "a macha hell on wheels." As the first Chicana to receive a major publishing contract, Sandra Cisneros is one of the leading writers in the growing field of Latino literature.
Cisnero's work has power, eloquence, lyrical beauty. It is vigorous, playful, and filled with compassion. It serves as a catalyst for internal and social change.
Her first novel, The House on Mango Street (1983), gives a vivid portrayal of life in a poor Hispanic neighborhood although it was sometimes criticized for reinforcing Latino stereotypes. It reflects one poor girl's childhood in a cramped house, longing for her own room, and longing to fit in.
The book won the Before Columbus Foundation American Book Award. It is required reading in many classrooms across the country, has been translated into twenty-seven different languages, and has sold more than 2 million copies. It was a long way from where she started. Born in the barrios of Chicago, Illinois, she lived in a succession of low-income housing. The family moved often from the states to Mexico to visit her grandmother, so she was never able to establish real roots.
Her parents stressed education, however, and made sure each of their children had library cards. Well protected as the only daughter with six brothers, Cisneros's father allowed her to attend Loyola University only because he thought she would meet a potential husband. He never dreamed she would graduate, remain single, and become a professional writer.
School was painful because she did not fit in. Nothing she said or did garnered attention. Cisneros retreated into her own world, becoming an astute observer of people and things around her, while writing secretly at home. She found comfort in books, and in the library, a surrogate mother.
One lone high school teacher saw Cisneros's talent and urged her to read her poetry aloud in class and to work on a literary magazine, which she did. She eventually became editor of the magazine. At the University of Iowa Writers' Workshop, Cisneros earned a master's of fine arts degree in creative writing in 1978. Once, given an assignment to describe their childhood homes, Cisneros finally looked deep into herself.
Once she saw herself as truly "distinct" from the privileged Anglo students in her class, her true writing voice emerged. Race, gender, class, and cultural divides that had caused an imbalance in her life instead added depth to her work. She decided to write about something her classmates couldn't, and The House on Mango Street was born.
Even after the book was published by Random House, Cisneros went through periods of depression and self-doubt. She surfaced every time, stronger than before. One of her poems was selected to appear in public buses in Chicago. She did public readings, had poems published in literary magazines, and was an artist-in-residence at a foundation in France.
Her long-awaited second novel, Caramelo (2002), took ten years to write, and earned rave reviews. Vintage Cisneros, a "best of" collection of her works, was a 2004 release.
Cisneros taught creative writing in Chicago's Latino Youth Alternative High School and at California State University. She received the MacArthur Foundation "genius prize" in 1995 and won the National Endowment for the Arts fellowship in fiction. Woman Hollering Creek and other Stories (1991) was selected Noteworthy Book of 1991 by the New York Times and as one of the Best Books of 1991 by the Library Journal.

Excerpt from: THE BOOK OF LATINA WOMEN: 150 VIDAS OF PASSION, STRENGTH, AND SUCCESS By Sylvia Mendoza
To Buy from this Latina click here.