Yasmin Davidds
(United States, 1971– )
An Organizational Psychologist, International Negotiation Consultant and Executive Coach, Dr. Yasmin Davidds started a movement to empower women, especially Latinas. She is founder of the Latina Youth Leadership Institute for HOPE, the Latina Empowerment Institute, and the Women's Institute of Negotiation.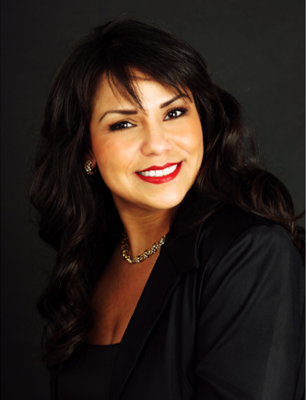 "When traditionalists try to tell me 'that's just the way it is for us Latinos, I answer: 'Not for me. I chose to live my life on my terms, so could you.'" ~Dr. Yasmin Davidds
Tradition is a double-edged sword. Latinas sacrifice their lives, wants, and needs for everyone else. It can lead to a cycle of despair and dead ends for generations.
Making wrong choices, bending to machismo or traditional beliefs, or not knowing about available resources can make them powerless victims who lose their sense of identity. They may try to fill that void with men, martyrism, and guilt, and in so doing, might live in a constant state of depression. But Latinas need to know there are options in how they live their lives and that they can create their own destiny. They have power through the choices they make.
That is the message in the book Empowering Latinas: Breaking Boundaries, Freeing Lives. Yasmin Davidds started a movement from her one book and her life's mission became clear: to help empower Latinas all over the world.
According to Davidds' statistics, two out of every five women in the United States are Latina—and this group will have the least amount of personal, political, and economic power.
Empowering Latinas centers around concepts that are basic to empowerment: education, developing realistic hopes and goals, faith, embracing culture, and incorporating powerful affirmation skills into daily life. She believes that if women improve their sense of worth, they can improve the quality of life for themselves and those they love.
She travels the world over to share how to overcome personal and cultural obstacles in order to regain power and purpose. For example, going away to college does not mean a Latina is abandoning her parents or being a bad daughter. The cycle of repression and self-denial repeats itself unless the young Latina sheds guilt and chooses education and a chance at the life she deserves.
Davidds experienced her own personal tragedies and harsh realities from choices she made and her own family heartaches. After a stay at a rehab facility, she turned tragedy into triumph.
By talking about her experiences she seemed to inspire others to share their stories and motivate them to make positive changes. In the process, she empowered them and herself. From this, the seed for her book was planted.
Education was at the core of her comeback. She returned to school to earn a business degree from the University of Southern California in 1995. At the University of Cambridge in England she studied gender roles in a variety of ethnic groups. In 1999, she earned a master's degree in women's studies from San Diego State University. In 2011, after earning her doctorate, she started the Women's Institute of Negotiation.
Davidds took her empowerment premise to the next level when she co-chaired Latina Action Day in Washington, D.C. More than 600 Latinas met with legislators, putting their concerns on the table. She was also appointed spokesperson for Latino Scholastic Achievement Corporation's "Prove It" campaign, which urges Latino high school students to stay in school.
Dr. Davidds' commitment to the empowerment and development of women leaders has brought her recognition and acclaim from the U.S.Congress, the California State Senate and the California State Assembly. She established the Latina Youth Leadership Institute for HOPE (Hispanas Organized for Political Equality), the Latina Empowerment Institute based in Southern California, and serves on the boards of the University of Southern California's Mexican-American Alumni Association and the California Hispanic Chambers of Commerce, among others.
Davidds has gone on to write several other books including Take Back Your Power: How to Reclaim It, Use It, and Keep It to Get What You Deserve. She also developed The Latinas' Seven Principles to Self-Love and Personal Freedom, an audio program, a talk show called You Go, Girl, and the Women's Institute of Negotiation to further her message of women's empowerment.

Excerpt from: THE BOOK OF LATINA WOMEN: 150 VIDAS OF PASSION, STRENGTH, AND SUCCESS By Sylvia Mendoza
To Buy from this Latina click here.