2014 NAHREP featuring Nely Galan and Latin Music Icon Charo
MUSIC ICON CHARO IN CONVERSATION WITH NELY GALÁN, FOUNDER OF THE ADELANTE MOVEMENT, AT THE NATIONAL ASSOCIATION OF HISPANIC REAL ESTATE PROFESSIONALS (NAHREP) NATIONAL CONVENTION AND LATIN MUSIC FESTIVAL
Monday, October 13 – 12 PM– JW Marriott at LA Live – Los Angeles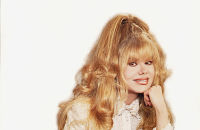 Latin music icon joins Nely Galán, founder of The Adelante Movement, presented by Coca-Cola, in conversation at the National Association of Real Estate Professionals (NAHREP) National Convention and Latin Music Festival. Charo and Nely discuss Charo's long and illustrious career focusing on her ability to become an economically empowered Latina. Charo imparts her wisdom, life-long career, financial success and personal empowerment. The event is for registered attendees of the NAHREP Convention. Registration and information: http://nahrep.org/convention/
WHEN:  Monday, October 13 at 12 Noon
WHERE:  JW Marriott at LA Live – Platinum Ballroom D&E 900 West Olympic Boulevard Los Angeles, CA 90015
"We have created a program that focuses on the remarkable story and career of Charo, a Latina legend," says Galán. "We want to bring members of the NAHREP the secrets of how Charo has managed to break new ground, challenge stereotypes and create a long-lasting career which continues to flourish."
ABOUT NAHREP
The National Association of Hispanic Real Estate Professionals, a non-profit 501c6 trade association, is dedicated to advancing homeownership among Latinos by educating and empowering the real estate professionals who serve them. Based in San Diego, NAHREP is the premier trade organization for Hispanics and has more than 20,000 members and 40 local chapters. The 2014 National Convention & Latin Music Festival offers the perfect blend of business tips, networking opportunities and cultural experiences like no other, including leading industry keynote speakers and town halls, multi-track educational sessions, networking, NAHREP Top 250 Awards and red carpet after party, leaving guests informed, reenergized and connected!
NELY GALÁN
Latina media dynamo and women's empowerment advocate Nely Galán, dubbed the "Tropical Tycoon" by The New York Times Magazine, is one of the entertainment industry's savviest firebrand talents. A first generation immigrant and self-made media mogul, Galán was the first Latina president of a U.S. television network (Telemundo). She is an Emmy Award-winning producer of over 600 episodes of television in Spanish and English, including the FOX hit reality series "The Swan" and is the first Latina to appear on "Celebrity Apprentice with Donald Trump" on NBC. She regularly electrifies audiences with her experiences as one of the first Latina producers in Hollywood and her rise to become a successful media and real estate entrepreneur as well as an inspirational speaker and passionate advocate for the empowerment of Latinas everywhere.. www.nelygalan.com.
CHARO
Charo is a household name. She is instantly recognizable as the "cuchi cuchi" girl, Charo's trademark expression, which has endeared her to millions around the world and made her name synonymous with music, fun and excitement. Charo is the recipient of the 2014 Ricardo Montalban Lifetime Achievement ALMA Award, bestowed by The National Council of La Raza (NCLR), the largest national Latino civil rights and advocacy organization in the United States. The NCLR ALMA (American Latino Media Arts) Awards celebrates America's favorite Latinos in the entertainment industry, television programs, films, and music.
Charo has appeared in countless hit television shows, including more than forty-five appearances on "The Tonight Show with Johnny Carson". She also appeared on the long-running comedy "The Love Boat" than any other star. Charo also appeared in such films as MOON OVER PARADOR with Richard Dreyfuss and AIRPORT 79: THE CONCORD.
Charo is also a humanitarian and an activist for animal rights. Like Pamela Anderson, Paul McCartney and Pink, Charo is a member of PETA who speaks out against animal cruelty. Charo was recently back on the Billboard charts with her latest single dance club hit – España Cañí, the traditional bullfighting song, which she recorded in protest against bull fighting. www.charo.com.
About The Adelante Movement
The Adelante Movement (Move Forward!) founded by Nely Galán, is a grassroots movement that empowers Latinas financially and entrepreneurially in the U.S. It encourages Latinas to play a leading role in American society, economics and politics and become an integral part of the national conversation, in order to provide their children with the future they deserve, as active citizens of this country. The Adelante Movement: Tour is a series of national empowerment conferences, supported by a digital community, presented by The Coca Cola Company, that inform, mentor and inspire Latinas to take action. Join: www.theadelantemovement.com.
Media Contact: Gabriel Reyes – 213-399-8208 – Gabriel@reyesentertainment.com