Hundreds of Chicago Latinos Came Together for the Adelante Movement, A Day of Personal Empowerment, Economic Literacy and Entrepreneurship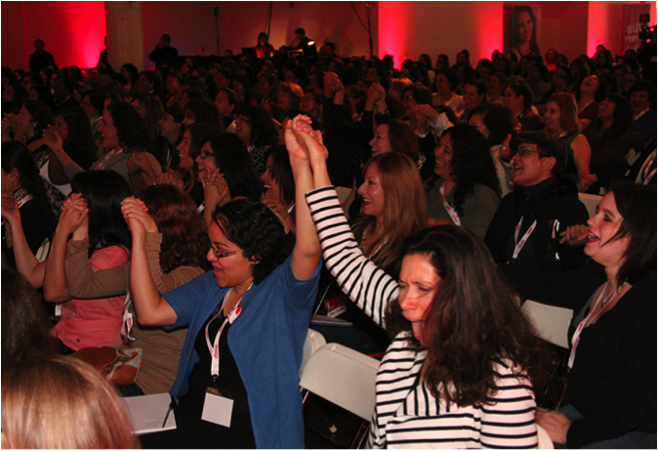 CHICAGO, IL (October 14, 2013). Hundreds of Chicago Latinas came together Saturday at The Adelante Movement: Chicago, a free, day-long program featuring inspirational speakers, business workshops, networking sessions, information about job opportunities at Coca-Cola, personal and professional development tips as well as financial and business advice to help Chicago Latinas create economic prosperity for their families. Watch here.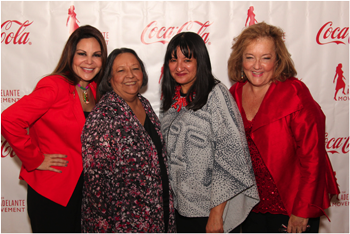 Presented by Coca-Cola, Adelante Chicago took place Saturday, October 12 at The Museum of Broadcast Communications and featured Nely Galán TV Producer and founder of The Adelante Movement, ("The View," "Celebrity Apprentice with Donald Trump," creator of the hit reality series"The Swan"), Sandra Cisneros, Chicago native, world-renowned author and MacArthur Fellow; Rosie Castro, political activist and mother of San Antonio Mayor Julián Castro and his brother U.S. Congressman Joaquín Castro; and Nell Merlino, Founder and President of Count Me In for Women's Economic Independence.
In addition, as part of The Coca-Cola Company's 5by20 initiative, which enables the economic empowerment of 5 million women entrepreneurs across the Company's global value chain by the year 2020, Adelante Chicago included a panel of industry experts who provided solutions and practical business information to the women on the spot.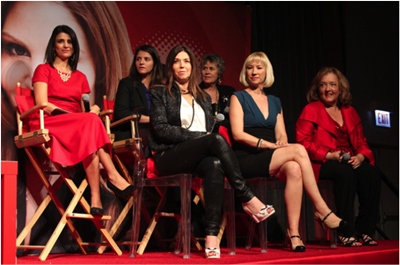 WHY?   According to a new study by Nielsen, "Latinas are key drivers of Hispanic economic power in the U.S." They are outpacing Latino males in education and career, expanding their purchasing power and shopping for the entire family. 23% of all U.S. births in 2011 were to a Latina mom, greater than their share (17%) of all women of childbearing age. Today, Latino children under 18 are a majority in California and New Mexico and nearing a majority in Texas. The study concludes: "Latinas are becoming central players in the modern American family." (Source: Nielsen: Latina Power Shift).






About The Adelante Movement
The Adelante Movement is a women's movement around personal empowerment, economic literacy and entrepreneurship. Adelante unites and empowers Latinas economically through a digital platform and a national tour of live forums featuring powerful and accomplished female role models that inspire other women to reach for more. The Adelante Movement connects Latinas and their families to jobs, start-up funding, franchise and entrepreneurial opportunities, and mentorship—with the goal of creating a private sector solution to bringing economic stability to Latino families via moms, many of the heads of households and are the emerging economic market in the country. The idea is to create a private-public partnership that empowers this elite group of Latina leaders and members of The Adelante Movement, to create economic opportunities and prosperity in their communities. Watch and be inspired. 
About The Coca-Cola Company
The Coca-Cola Company (NYSE: KO) is the world's largest beverage company, refreshing consumers with more than 500 sparkling and still brands. Led by Coca-Cola, the world's most valuable brand, our Company's portfolio features 16 billion-dollar brands including Diet Coke, Fanta, Sprite, Coca-Cola Zero, vitaminwater, Powerade, Minute Maid, Simply, Georgia and Del Valle. Globally, we are the No. 1 provider of sparkling beverages, ready-to-drink coffees, and juices and juice drinks. Through the world's largest beverage distribution system, consumers in more than 200 countries enjoy our beverages at a rate of more than 1.8 billion servings a day. With an enduring commitment to building sustainable communities, our Company is focused on initiatives that reduce our environmental footprint, support active, healthy living, create a safe, inclusive work environment for our associates, and enhance the economic development of the communities where we operate. Together with our bottling partners, we rank among the world's top 10 private employers with more than 700,000 system associates. For more information, visit Coca-Cola Journey at www.coca-colacompany.com, follow us on Twitter at twitter.com/CocaColaCo or check out our blog, Coca-Cola Unbottled, at www.coca-colablog.com.
Hashtags: #AdelanteChicago, #nelygalan, #NellMerlino, #SandraCisneros, #RosieCastro, #AdelantePower #5by20
Follow on Twitter: @AdelantePower, @Nely_Galan, @NellMerlino, @Castrocountry, @CocaCola, @LaFlowers, @TheConlinCo, @IsisaraBey, @MargeryMiller, @Idaima8, @GenAnderson

(END)
Media Contacts:
For Nely Galán and Adelante: Gabriel Reyes – 512-968-9030 – Gabriel@reyesentertainment.com
For Coca-Cola: Kathleen Strand - 847-707-2891 – Kstrand@coca-cola.com