Entrepreneur Candy Ramirez benefits from program aimed at helping Latinas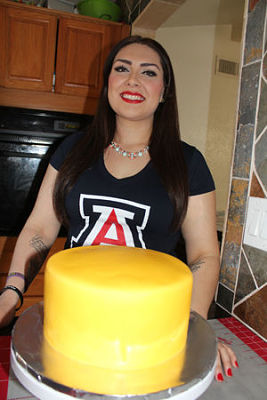 "Move Forward" advises The Adelante Movement, a grassroots effort to unite and empower Latinas socially, economically, and politically, encouraging Hispanic women to play a bigger role in economics. To date, Adelante has trained nearly 9,000 Latinas.
Entrepreneur Candy Ramirez of Tucson, owner of Candy's Cakes and More, says the movement was a turning point for her. "I had no idea what the program was all about when I was asked to make a cake for its founder Nely Galan," she says, acknowledging that event was a turning point in her life.
Galan, called "the Tropical Tycoon" by the New York Times magazine, is a Latina media dynamo and women's empowerment advocate, a first generation immigrant and self-made media mogul (former president of the Telemundo TV network) who now helps others.
"I was struggling," says Ramirez, a teenage single mom raising a son and caring for her ailing mother. "I was working three jobs --- selling furniture, flipping burgers, making pizzas --- after having to drop out of Pima College and the U of A teacher training to earn a living. I come from a family of bakers and since my great-grandmother taught me the correct way to crack an egg at age 1, baking has always been my passion. Baking was therapeutic for me then and one day it dawned on me, maybe this is what I should actually be doing for a living."
Following an inspiring Adelante Movement luncheon listening to Galan's passionate advocacy for the empowerment of Latina women, Ramirez took the tips, techniques, tools, and training and started to expand her world. "She opened my mind to bigger things. I stopped marginalizing myself and realized that not only could I bake cakes for friends, there was a bigger market to strive for."
Strive --- and succeed --- with her work-of-art creations featured in Cake Master magazine. "I've baked for businesses, events, and celebrities, each time increasing my confidence. My great-grandmother was a rule breaker and I followed in her footsteps. Don't tell me I can't do something, because I'm fearless now. I can bake anything that goes into an oven," she says.
Thankful for the help she has received, Ramirez is paying it forward by starting a positivity movement for other bakers, encouraging them to come together and help each other. "In Tucson, I'm considered the Queen Bee Baker and that's what I call my You Tube and blog outlets that provide advice and support based on my crazy cake journey. When I was in my first year, I was alone and nobody wanted to help me. It shouldn't be that way. I've been there, understand the confusion and disillusionment of other women, and want to empower other bakers in our community to know they're not alone. We don't live in a vacuum. I got help to allow me to move forward, so now I try to give back to others."
As her confidence level increased, she came to realize that the future can be whatever she wants to make of it. "I've got a lot of goals I haven't accomplished yet," says the already-successful 28-year-old. "I have some sponsors and partners and we've got a lot of stuff planned. We'll soon be announcing a tool that's not on the market now, but will make life easier for cake bakers wanting to achieve a certain look to their creations."
Emphatic in her insistence that she has no interest in owning a brick and mortar bakery, she would like to one day have her own cooking show. And she does want to travel to teach youngsters how to bring out their creativity. "I've made guest appearances in numerous classrooms over the last four years and am amazed at what I find. I see how open these kids' minds are and I want to encourage that enthusiasm."
Her desire to travel is about to be fulfilled through the Adelante Movement and its support by Coca-Cola Company as part of its "5 by 20" global initiative that aims to empower 5 million women entrepreneurs by the year 2020. There are already programs in existence in more than 40 countries.
For others who wish to be similarly inspired, Adelante Movement founder Nely Galan will be a guest presenter at the Tucson Hispanic Chamber of Commerce's Head Over Heels Women's Business Conference & Expo, April 18, at the Desert Diamond Casino Hotel.
See theadelantemovement.com, www.coca-colacompany.com/stories/5by20, and www.tucsonhispanicchamber.org/so-az-womens-business-conference.htm for further information.
Read the full article here.