Inspiring Latina: Businesswoman and Entertainment Mogul Nely Galan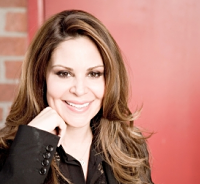 The words fire, empowerment, leadership, and passion draw to mind one Latina: Nely Galan. Dubbed the "Tropical Tycoon" by the New York Times Magazine, Galan was the first Latina president of a U.S. television network at Telemundo. She is a successful media and real estate entrepreneur, and is one of the entertainment industry's savviest talents.
So what keeps an accomplished woman like Nely Galan motivated? Her most important role: mom to an 11-year-old son. "I want him to grow up to be the best man he can be," she said. "And that is a full time job for me."
In addition to raising her son, this Latina has many jobs. Galan launched her own company, Galan Entertainment, and is responsible for launching groundbreaking TV channels in Latin America. She produced over 600 episodes of programming -- everything from reality shows to sitcoms to telenovelas to talk shows in both English and Spanish.
And if that wasn't enough, Galan is a passionate advocate for the empowerment of Latinas everywhere. She founded the Adelante Movement, a grassroots campaign that unites and empowers Latinas socially, economically, and politically in the United States. Adelante encourages Latinas to get involved and play leading roles in American society.
In addition to her roles as a TV executive, advocate, and mother, Galan also owns her own real estate, development and investment company. She's famously said, "Don't buy shoes. Buy buildings. We have to sacrifice the little things to go after big dreams, and it is not how much money you make but what you do with it. For women, financial independence brings us freedom to make better choices for ourselves and for our families and ultimately that brings us happiness."
But her work doesn't stop there. She recently launched two websites that target women: Ms. Mogul, a site for up-and-coming entrepreneurs, and The New You TV, dedicated to health, wellness and beauty issues for women.
Despite her long list of achievements and impressive resume, Galan is constantly looking to improve herself. "My number one value is to grow every day. The one thing you can count on is, this moment, everything changes and if you don't change, grow and take yourself to a higher place you stagnate and you begin to die little deaths every day," she said. "I just went back to school and finished my BA and continued on to finish a Masters and Doctorate in clinical Psychology. This has nothing to do with my career. It had to do with me challenging myself and pushing myself beyond my comfort zone, and it is not for someone else to congratulate me- it is a very interior victory within myself."
Galan is one hot Latina in all aspects of the word. "I hope I am an example for women that you can achieve your highest dreams, be financially independent and not lose your values and your Latino roots," she said. "The number one thing I love about my life is to be Latina. It is was gives me passion, compassion, humility, struggle, pain. It is my music, my dance and, most importantly, my taste."
Brought to you by Orgullosa
Read the full article here.