My first job: Nely Galan, a self-made entrepreneur at age 10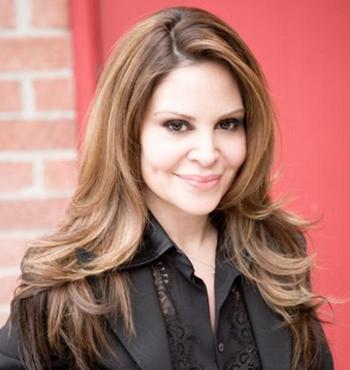 In an exclusive Q&A with Renée Ward, Nely Galan,a Latina media mogul and Emmy award-winning producer, shares how she was a self-made entrepreneur at age 10 and how valuable lessons learned in her younger years contribute to her continued success.
Galan is a first generation Cuban immigrant who holds the distinction of being the first Latina president of U.S. television network, Telemundo. She is the producer of over 700 episodes of television in Spanish and English, including the FOX hit reality series "The Swan" and is the first Latina to appear on "Celebrity Apprentice with Donald Trump" on NBC. Her company, Galan Entertainment, has launched nearly a dozen television channels internationally.
In addition, Galan has become an in-demand motivational speaker and is the founder of the Adelante Movement (Move Forward!) Backed by Coca-Cola, Galan's Adelante Movement is a grassroots campaign that empowers Latinas financially and entrepreneurially in the U.S. The Adelante Movement Tour is a series of national empowerment conferences, that inform, mentor and inspire Latinas to take action! This is another in a series of articles about the "first paying jobs" of successful people, their advice for today's teens, and reflects the value of work early in life. This interview has been edited for length and clarity.
Ward: How old were you when you landed your first paying job (or a way to earn money) and what did you do?
Galan: I started earning my own money in middle school. I was 10 years old. My parents put me in an all-girls Catholic school in Teaneck, New Jersey. I overheard a conversation my parents were having about not being able to afford the school's tuition and they were worried about what they were going to do about it. In hindsight they would probably now say it wasn't that bad. But at that time and on the ears of a child, when I heard their words I got very scared. In my mind I thought, oh my God, my parents are going to go broke tomorrow. I imagined that the nuns were going to kick me out of the school. That's how I took it. Renée, you have to understand we were immigrants and my parents didn't speak English at the time. We had come from Cuba when I was five years old. We came with the clothes on our backs. My parents had to leave everything they owned behind. It was a traumatic immigration. The oldest of two children, I was the translator for my parents and as a result, I believe I became quite grown up at an early age because I saw my parents were a little bit lost. I learned how to speak English by watching American television. That's why I'm obsessed with TV. It was like, my everything.I was taking piano lessons at that time down the street from my home. A mother of one of the other children taking lessons was an older Jewish lady that sold Avon. We would talk while she waited for her kid to finish her lesson. I was always very friendly and I'd talk to all the neighbors. One day she asked me if I wanted to sell Avon at my school in exchange for free products. I thought about my parents' money problems and about my school tuition. I asked the lady if she would split the money earned 50/50 instead. She said okay, do it!
I started selling Avon out of my locker in school. In the first week I made $200 bucks! After about four weeks I was beginning to pay my tuition. I asked the nuns to send a note to my parents saying that I got a scholarship to cover the tuition. If my father knew that I was paying for it, he would not have allowed it. He was a very proud man. And, whenever I heard by parents discussing their money problems, my father would say, "Don't worry, Jesus will help us out." So when I brought the letter home to my parents, my mother asked my father what it said. My father could read a little English by this time. My dad says, "Oh my God. Your daughter is a genius and Jesus helped us after all." From that moment on, I started making my own money. I grew up being very fearful of not having money. Today when people ask me why am I so good with money, I say, are you kidding me. That's a muscle I have been using since I was 10 years old. It's true. I sold Avon into my 20's. It was always my side business. I still love Avon! I'm a big Avon fan.
Ward: Why do you think at such a young age you earned that opportunity?
Galan:I was serious. I was responsible. The lady got to know me in the piano classes as we talked. I think she saw that I was an immigrant, well-behaved, a good kid and wanted a way to help my parents out.
Ward: Any other jobs while you were a teen?
Galan: Oh yeah. I ended up getting an incredible gig with Seventeenmagazine at age 15. I had written an article for the magazine about why girls shouldn't go to all-girls Catholic schools. At the time I was upset with the nuns and I don't feel this way today. When the article was published, I was suspended from school and accused of plagiarism which I didn't do! My parents told me to apologize to the school and I wouldn't do it. Instead I called the Board of Education. They told me that because it was a private school, they could expel me. They suggested that I go to the press with my story. I called the local newspaper with my story and the next day they published my story with a headline like, Cuban girl gets expelled for a First Amendment issue. After all the publicity generated by the story, the nuns called me in with my parents. I was so embarrassed because they couldn't speak English. I thought they were going to humiliate us. We when got there, they admitted that the school had made a mistake and took me back. I graduated a year and a half early. Seventeen offered me a Guest Editorship and I was the youngest one in their history. It started as a free internship. I also worked two other jobs. I worked at The Limited , a clothing retailer, in sales. At the same time I became a buyer of accessories for The Limited because of my association with Seventeen. I had three jobs simultaneously in my teens.
Ward: Did anything go wrong on the jobs? If so, how did you overcome the challenges?
Galan: Yes! A lot went wrong in every job. I would make Avon sales and the kids I sold to would keep forgetting to bring in their money and I had already paid for their products. I did lose money sometimes. I learned I couldn't give out the product until they gave me the money. I didn't want to work on consignment. A lesson of entrepreneurship. My first day at Seventeen, my boss told me to book a location shoot with four models and a photographer for the next day. I asked her how. She said, "If I have to explain it to you, I'd rather fire you. Open the drawer and figure it out." I stayed until 9:00 that night opening drawers, crying the whole time but I did it! I figured it out.
Ward: Geez. I suspect other people might have walked away. Why didn't you?
Galan: I wanted the job really bad. Let's put this in context. I was living in New Jersey with my immigrant Latino family and all of a sudden I'm in Manhattan, New York City working at Seventeen. I had to take a bus and the subway to get there. My parents didn't want me to take the job and I convinced them that it was a big deal in America. I wasn't about to go home with my tail between my legs. I wasn't going to give up a chance to work in the city and a different life. No. So, I had to figure it out. People do things differently that have nothing to lose. Someone who has money and a nice life might have said, screw that lady. That wasn't an option for me. I wanted another life. She did me a very big favor by doing that.
Ward: On that note, did you have a mentor along the way?
Galan: I turned everybody into one of my mentors. Not because I asked them which I feel turns some people off. I was one of those people that stayed late, worked hard, and listened to my bosses' conversations. I became a sponge so I could excel to where I wanted to be. I made myself indispensable. So, even if they weren't officially mentoring me I was learning from my bosses and co-workers every day. I learned what to do. I learned what not to do.
Ward: What did you learn from your early job experiences that have prepared you for what you are doing now?
Galan: The one overriding thing I learned is that it doesn't pay to be complacent. People that speak up, take action, and don't accept the status quo keep moving forward. If you don't, you stagnate. I've met people who've been expelled from school or accused of plagiarism and they told me it ruined their life. Well, it made my life! This is a lesson for people. Do you allow bad things that have happened to ruin your life or do you turn them around and make them the catalysts to propel you forward? For me, it's about moving forward all the time—learning, growing, questioning, and seeking. Selling Avon, I learned that I could make money. It was because of my work at Seventeen that I got into TV. A lady was producing a teen version of the TV show "60 Minutes" . She read my byline in Seventeen and called me to apply for a job with the TV show. I did and she hired me as a researcher. Shortly thereafter I became one of the reporters on the show.
I look at young kids today, including my 15 year old son, and I think the desire to learn about money and be financially literate comes from need or it comes from your parents cultivating that thought in your mind. I meet a lot of kids who are very entitled and don't have that thought. They are in for a rude awakening. In the case of my son, we talk about business all the time. It's part of our daily conversation whether he likes it or not. For example, when we go to a restaurant, I'll ask him to analyze what the restaurant makes. That is, what are we buying, what does it cost to eat, is it $10, $20 or $30 per head. And things like, how many people sit at the tables throughout the day. We also talk about what he would do differently if he was running the business. I don't educate using business terminology per se but everywhere we go we critically think about how that business is doing. It's almost like a game. I think this is a great way to cultivate learning about money by making it fun. I want my son to think like an owner rather than an employee. And, when I ask him to do something and he comes back with, "How do I do it", I say I don't care how long it takes, figure it out. Of course, he gets angry with me. But, there's always a way to figure it out when you're thrown into the lion's den. You can ask someone, read a book, and these days go on the Internet to learn how to do anything.
Ward: What advice do you have for teens and young adults today seeking their first jobs or a way to earn money?
Galan: If I was a teen today I would be jumping for joy. I would start an eBay or Amazon store. No overhead. I would decide what I could sell from among the things I had and my family no longer wanted. There's nothing more incredible to prepare you for life than learning how to sell something yourself online. That's a great starting point. You'll have to learn how to photograph your items, how to price them, and how to write ad copy. If you're not selling, you'll learn from the people that are—what they are doing right that you are not. It's an easier way to make money.
Ward: What advice do you have particularly for young Latinas?
Galan: Latinas are the fastest growing group of entrepreneurs in America. There are so many opportunities. There are scholarships and money to start your own business available through the Unites States Small Business Administration. That's why I started the Adelante Movement! Come check us out
Read the full article here.