Reaching New Heights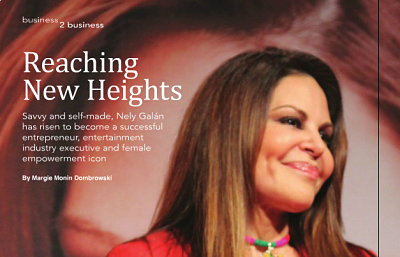 Savvy and self-made, Nely Galan has risen to become a successful entrepreneur, entertainment industry executive and female empowerment icon
At a time when big-name corporations are finally paying attention to the purchasing power of Latinos and Latinas, Nely Galán—entrepreneur, real estate investor, philanthropist and media mogul—has become a powerful voice for the Latino community. She has reinvented herself over the years, but her mission remains the same: inspiring Latinas to be bold leaders.
A first-generation Cuban immigrant, Galán made her American dream a reality, and leveraging her cultural identity has been an integral part of her success. As the founder of Galán Entertainment (started when she was just 25), the first Latina president of a U.S. television network (Telemundo), an Emmy award-winning producer of more than 600 episodes of TV shows in English and Spanish, and the first Latina contestant on "The Celebrity Apprentice" with Donald Trump, Galán immediately realized her niche and her calling.
"Being a specialist at something really makes networking easy, as people tend to come to you," she told David J. Parnell in a Forbes interview. "When I started in the business world, I realized that. In the pain of being a Latina immigrant, I understood Latinos' pain better than most. So, when I went into Latino media and focused on that, after a few years, people knew I was the 'go-to' person, and they came to me, and I cultivated those relationships."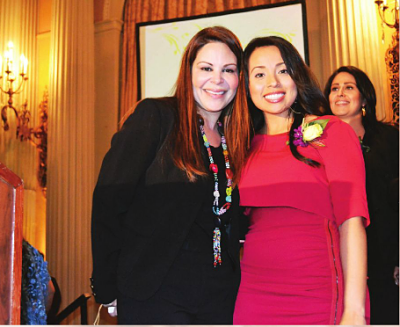 On a Mission
With an entrepreneurial spirit, Galán keeps busy with a diverse mix of projects while still making time to take others under her wing for encouragement and advice.
Today, she's the creator, executive producer and in-house life coach for the FOX reality hit show "The Swan" and has launched 10 TV channels in Latin America. She also sits on the board of Count Me In, which is the CocaCola Company's advisory board that aims to turn five million women into entrepreneurs by 2020 ("5 by 20") for which she helped raise $250,000 in her appearance on "The Celebrity Apprentice."
Once referred to as the "Tropical Tycoon" by The New York Times, she's also invested in real estate and encourages other women to follow her footsteps for financial independence. (In fact, one of her famous sayings is, "Don't buyshoes. Buy buildings!")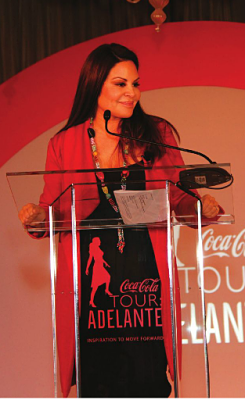 As a self-made woman with an impressive résumé, Galán has found her voice as a motivational speaker, empowering other women. Encouraging Latinas to believe in themselves and take risks, she advises that many sacrifices are needed—including living below your means in order to invest in yourself.
And she practices what she preaches. After seeing her years of hard work pay off, she went back to school to earn the degrees she never pursued earlier on in life. Proving that you can do it at any age, she earned her bachelor's, master's and doctorate in clinical and cultural psychology. Her dissertation on an entrepreneurial program for Latinas was the seed for a larger idea.
Starting a Movement
Entrepreneurship provides an opportunity for women to take control of their destinies, and Galán believes it's the best way for Latinas to secure a promising future for themselves and their families.
Through her digital platform and national tour called The Adelante Movement ("MovingForward"), she's created a grassroots movement urging Latinas to get involved socially, economically and politically and to become a part of the conversation. The tour also includes workshops that educate Latina business owners on using technology to further their brands.
By 2020, Galán's goal is to have equipped 30,000 Latinas for creating an entrepreneurial business in the home of every Latina. According to her, entrepreneurship can help women become their truest selves and also attain financial freedom.
Sometimes, however, our biggest struggle can be internal, but that has to change. In a Hispanic Outlook article, Galán shared, "I was the only Latina entrepreneur [on 'The Celebrity Apprentice'], and I had to get over the feeling of being 'less than.' I was never less than. I'm an entrepreneur. That's a constant in my life. We have to aspire to not be marginalized. That's what I want Latinas to know from The Adelante Movement."
Through her example, she's showing women what's possible and how it's done, and her empowering message is loud and clear.
Read the full article here.