Women of Influence 2016
The New York Business Journal has named its second class of honorees for its Women of Influence Awards, and 79 extraordinary women made the cut.
Earlier this fall, we put a call out to our readers to nominate female business leaders in the New York City area who innovate, succeed and pay it forward — with a heavy emphasis on that last part. We were looking for women who have demonstrated a track record of success in their businesses or careers, and who also put a premium on mentoring those around them and supporting the next generation of women in business.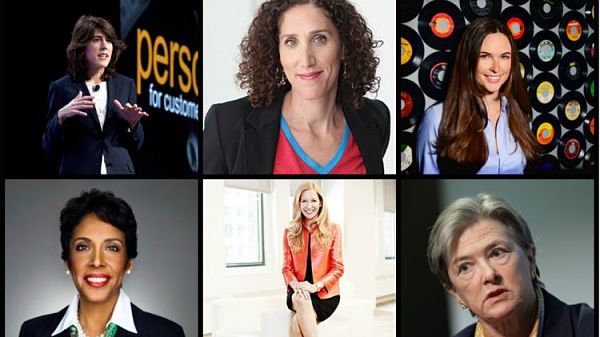 Six of the Women of Influence 2016 honorees. Clockwise from top left: Yahoo Chief Revenue Officer Lisa Utzschneider; HelloFlo CEO Nanna Bloom; Zine-Pac co-founder Kim Kaupe; Kathryn Wylde, president and chief executive officer of Partnership for New York City; GlamSquad CEO Alexandra Wilkis Wilson; and Girl Scouts of the USA CEO Anna Maria Chavez.
Among the new class of honorees: Girl Scouts CEO Anna Maria Chavez, Partnership for New York City president and CEO Kathryn Wylde, GlamSquad CEO Alexandra Wilkis Wilson, Skylight Group founder and CEO Jennifer Blumin, startup investor Joanne Wilson, and Yahoo chief revenue officer Lisa Utzschneider.
We will honor this year's winners at a luncheon to be held Jan. 20. If you are interested in attending, you can find more information here. Our Women of Influence program is part of a national effort by American City Business Journals — the premier company in the country devoted to the reporting of local business news — to identify and celebrate women business leaders and to foster business environments that will create even more successful women in the future. To take a look at last year's impressive group of honorees, click here.
In the weeks ahead, readers will learn more about our Women of Influence. Please stay tuned.
Congratulations to all our winners:
Christina M. Alfonso, founder and CEO, Madeira Global
Carol Barash, founder and CEO, Story2
Christina Bechhold, co-founder, managing director, Empire Angels
Deborah Bial, founder and president, The Posse Foundation
Naama Bloom , founder and CEO, HelloFlo
Rachel Wilkins Blum, founder and CEO, Conception Events LLC
Jennifer Blumin, founder and CEO, Skylight Group
Rebecca Cenni, founder and CEO, Atrium Staffing
Anna Maria Chavez, CEO, Girl Scouts of the USA
Lauren Coape-Arnold, vice president, corporate social responsibility, Guggenheim Partners
Susan L. Combs, president, Combs & Company
Asha Curran, director, Center for Innovation & Social Impact, 92 Street Y
Susan Daimler, vice president and general manager, Streeteasy and Zillow NYC
Kiana Danial, CEO and coach, InvestDiva.com
Susan Danziger, founder and CEO, Ziggeo
Kirsten Flanik, managing director, BBDO NY
Jayne Fleming, pro bono counsel, Reed Smith
Nely Galan, founder, Galan Entertainment/Adelante Movement
Adrienne Garland, founder, Womancon
Sharna Goldseker, executive director, 21/64
Gail Gottehrer, partner, Axinn, Veltrop & Harkrider LLP
Carrie Hammer, founder, Carrie Hammer Custom Apparel
Clare Hart, CEO, Sterlingbackcheck
Leith Hill, CEO at Wisdom Foods LLC, owner at Ellary's Greens
Laura Hinds, chairman, Women's Luxury Guild
Lisa Humbert, EVP, chief info risk officer, BNY Mellon
Julie Kampf, CEO and president, JBK Associates International Inc.
Kim Kaupe, co-founder, ZinePak
Karin Klein, partner, Bloomberg Beta
Julia Landauer, CEO, Julia Landauer Racing LLC
Lauren Leader-Chivee, co-founder and CEO, All In Together
Julie Levi, president and founder, Progressive Promotions, Inc.
Anna Ly, sr. manager, business and creative tech partnerships, Sesame Workshop
Jennifer Markas, founder, Damsels in Design
Colleen Mcintosh, SVP, corporate secretary, assistant general counsel, CVS Health Corp.
Mary Kate McGrath, editor-in-chief, PureWow
Katie Michael-Battaglia, design director, Nemo Tile
Christina Minardi, president - Northeast region, Whole Foods Market
Tamara Nall, president and CEO, The Leading Niche
Mari Kim Novak, chief marketing officer, Rubicon Project
Mary Nittolo, president, The Studio
Carin Pai, executive vice president, Fiduciary Trust Company International
Georgette Pascale, CEO, Pascale Communications
Michele Penzer, partner, Latham & Watkins LLP
Joanne Podell, vice chairman, Cushman & Wakefield
Alexandra Sandra Poe, partner, Reed Smith
Sarina Prabasi, CEO, WaterAid America
Margarette Purvis, president and CEO, Food Bank for New York City
Carol Raimo, managing director, Protiviti
Jennifer Rhodes, agent, Ideal Properties Group
Lorey Flick Roberts, principal, ADS Engineers
Jessamyn Waldman Rodriguez, founder and CEO, Hot Bread Kitchen
Camille Bidermann Roizen, SVP and executive director, International Academy of Television Arts & Sciences
Dagmar Rosa-Bjorkeson, EVP, president of Biosimilars, Baxalta
Eren Rosenfeld, managing director, global head of talent development, BlackRock
Sandy Rubinstein, CEO, DXagency
Lisa Balter Saacks, VP global business development, Gust
Jordan Salcito, founder, Bellus Wines, and beverage director and sommelier, Momofuku
Viktoria Sater, president, Viktoria's Gourmet Foods
Josephine Savastano, regional VP, senior VP, Wells Fargo
Judith Schumacher-Tilton, president, Tilton Automotive Group
Mona Scott-Young, founder and CEO, Monami Entertainment LLC
Christine Sfeir, CEO, Semsom
Leslie Short, CEO and president, K.I.M. Media LLC
Cynthia Shoss , partner, Sutherland Asbill & Brennan LLP
Luvleen Sidhu, chief strategy and marketing officer, Bankmobile
Daria Siegel, VP, economic development at Alliance for Downtown New York; director, LMHQ
Monique Skruzny, founding partner, MBS Value Partners
Tara Stacom, executive vice chairman, Cushman & Wakefield
Leigh Stein, author, co-president, Out of the Binders Inc.
Lisa Utzschneider, chief revenue officer, Yahoo
Karen van Bergen, CEO and senior partner, Porter Novelli
Jill Vitiello, founder and president, Vitiello Communications Group
Lynn O'Connor Vos, CEO, Grey Healthcare Group
Pelli Wang, venture director, SeedInvest
Alexandra Wilkis Wilson, CEO, GlamSquad
Joanne Wilson, owner, co-founder, Gotham Gal Ventures, Women's Entrepreneurship Festival
Kathryn Wylde, president and CEO, Partnership for New York City
Tiffany Yu, director, REVOLT Media & TV



J. "Josh" Jennings Moss has spent time on the police beat in Florida, on the political trail in Washington, D.C., and on the business front in New York. Among the places he's journalized: Condé Nast Portfolio, FoxNews.com, ABCNews.com, the Advocate, the Washington Times, and the Tampa Tribune. Josh graduated from the University of Arizona and lives in New York City.
Read the full article here.