ADELANTE! Power Latina
One of the mantras of The Adelante Movement is that in order to be economically, socially and politically empowered we must support each other (even if we do not like each other). We are family, which means we must buy from each other (that alone would make us all rich); and we must promote each other.
The Adelante Movement will promote each one of you. We want you to shine, to be seen, to be bragged about to our children and to appear as experts in mainstream media.
Today, I am proud of a Latina who began her life simply and rose to extraordinary status and accomplishment. Rigoberta Menchu Tum is the youngest recipient of The Nobel Peace prize for her work supporting the indigenous people of Guatemala and of the world. She had the guts to run for President of her country If she could find the coraje to stand up and have her voice heard for herself and for so many others, so can each one of you! I am so happy that Rigoberta  Menchu will be joining The Adelante Movement and gracing us with her presence and her voice in Phoenix Arizona.
Rigoberta Menchu Bio
Dr. Rigoberta Menchu Tum, a Guatemalan indigenous k'iche' woman has demonstrated leadership at the forefront of the social struggle at the national and international scope. Her trajectory was recognized when she was awarded the Nobel Peace Prize in 1992, the youngest person ever to be bestowed with this honor.
At the age of ten years, as a Maya woman, she had an active role in her religion, serving as a catequista in the pastoral activities in her community. Menchu also became a leader in her community in organizing and defense. She encountered the injustice, discrimination, racism and exploitation that had kept her people in extreme poverty by the thousands. Exposure to such destitution led her to look for a different livelihood in the country's capital, Guatemala City, to help her parents and brothers. During the country's armed internal conflict, Menchu lost her father in the burning of the Spanish Embassy, followed by her mother, Juana Tum who was sequestrated and who became one of the "disappeared," (kidnapped) and her brother was assassinated by the Army of Guatemala.
From a very young age, she was involved in the struggle to defend and reclaim the rights of indigenous peoples and countrymen who were politically persecuted and exiled. In the year 1979 she became a founding member of the Committee of United Peasants (CUC Comite de Unidad Campesina) and the United Representation of Opposing Guatemalans (Representacion Unitaria de la Oposicion Guatemalteca RUOG) of which formed part of her direction/leadership/course until 1992. In the year 1988 she returned to Guatemala and was detained.
Under those circumstances, she met Nineth Montenegro who had an active role in ONU, attended annual sessions of the Commission of Human Rights, Commission of the Prevention of Discriminations and Protection of Minorities, and was part of the working group for indigenous peoples. It was through his involvement with the "Group of Mutual Support" (Grupo de Apoyo Mutuo GAM) and the support and political will of thousands of university students that he became liberated from detention.
The platform of the Nobel Peace Prize continued to foster important initiatives, national and international, thus became the creation of the Indigenous Initiative for Peace. She was named "Ambassador of Good Will" of ONU for the International Year of Indigenous Peoples at the World Conference of Human Rights in Vienna, Austria, in June of 1993 and in 1996 she was named the "Ambassador of Good Will" by UNESCO.
Together, Menchu collaborated with her closest contributors to establish the "Vicente Menchu Foundation" which subsequently took then name of "The Rigoberta Menchu Tum Foundation." As president, she has helped provide support to Guatemalan populations in need of education projects, productives and infrastructure.
The Foundation serves many diverse cases ranging from those that seek justice for the victims of genocide committed in Guatemala to coming to the defense of victims who have suffered discrimination and racism. Dr. Menchu Tum has emerged as a leader for her steadfast commitment to push for justice.
Dr. Menchu has received national and international recognition for her work including the UNESCO "Education for Peace" prize in 1990, she earned the decoration of "Legion of the Highest Honor of Command" which she had the honor of receiving from the hands of the French president, Jacques Chirac in June 1996 and she won the "Principe de Asturias de Cooperacion Internacional" in 1998.
She has been awarded more than thirty honorary degrees from various distinguished world universities, including the University of San Carlos of Guatemala in 1996.
Rigoberta Menchu Tum has published many works including, "Me llamo Rigoberta Menchu y asi me nacio la conciencia," (My Name is Rigoberta Menchu and I Was Born With A Conscience) a book of testimony published in 1983, that has been translated into more than a dozen languages and has won international acclaim, "La Nieta de los Mayas," (The Grandchild of the Mayas) published in 1998, and in the last few years she has published "Li Mi'n, Una Nina de Chimel" (Li mi'n, a child in Chimel) and "El Vaso de Miel" (Glass of Honey).
Her commitment to her country brought forth an active participation in the signing of the Peace Agreements in Guatemala between the Unity Revolutionary National Guatemala (URNG – Unidad Revolucionaria Nacional Guatemalteca) and the Government of Guatemala. Subsequently, in 2007, Menchu accepted the invitation to be honored as "Ambassador of Good Will."
Dr. Rigoberta Menchu Tum, an indigenous k'iche' woman, married and mother to a son, is quite possibly one of the most widely recognized people of Guatemala.
Are you a Power Latina? We want to profile you!
Click here to upload a photo and tell us why you should be the next Adelante Power Latina.


---

Today, I choose and brag about a woman that is a living treasure in our community. She speaks beautifully for those who cannot speak for themselves. She is taught in every school in the U.S. and in hundreds of countries around the world. She is a MacArthur Genius recipient and she is my friend, Sandra Cisneros.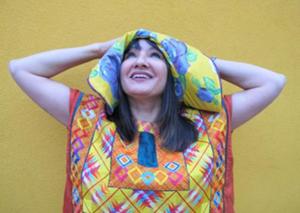 Sandra Cisneros Bio
Sandra's new project "Have You Seen Marie?" is an illustrated book for adults, written by Sandra with illustrations by Ester Hernández.  The book will be published in October 2013 and will include a 15-city tour.  Sandra's new children's book, "Bravo, Bruno," with illustrations by Leslie Greene, will be published in Italy next year.  She is also writing several projects, including a book of essays as autobiography, a collection of short stories, a book about writing and a new book of poems, among others.
Sandra Cisneros's books (available in paperback and hardcover) include a chapbook of poetry, Bad Boys (Mango Press 1980); two full-length poetry books, My Wicked Wicked Ways (Third Woman 1987, Random House 1992) and Loose Woman (Alfred
A. Knopf 1994); a collection of stories, Woman Hollering Creek and Other Stories (Random House l991); a children's book, Hairs/Pelitos (Alfred A. Knopf 1994); and two novels, The House on Mango Street (Vintage 1991) and Caramelo (Knopf 2002). Vintage Cisneros, published in 2003, is a compilation of selections from her works.