Dolores Huerta
(United States, 1930– )
Co-founder and first vice president of the United Farm Workers Union, Dolores Huerta was the first Latina inducted into the National Women's Hall of Fame.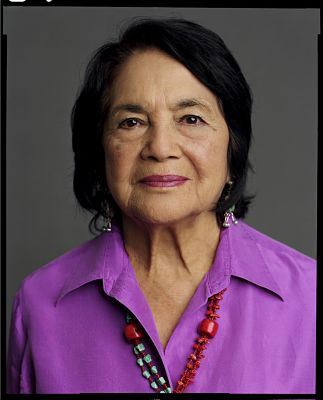 "I think we showed the world that nonviolence can work to make social change." ~Dolores Huerta
Dolores Huerta was known as "the Dragon Lady," a nickname bestowed upon her by landowners who had to face her when she fought for the rights of migrant workers.
Her direct approach made it clear that their derogatory sexist and racist remarks and questionable actions were unacceptable.
For more than half a century, Huerta has dedicated her life to the struggle for social justice and dignity for poor migrant farm workers. She is the most prominent Chicana labor leader and civil rights activist in the United States.
She is the co-founder and first vice president of the United Farm Workers (UFW), the first successful union of agricultural workers in the history of the United States. Sometimes she was known as Dolores "Huelga," or "strike," for the numbers of strikes she organized.
Born Dolores Fernandez in New Mexico, she was raised in California's San Joaquin Valley with two brothers, two sisters, and a divorced mother, who worked in a cannery and as a waitress to make ends meet during the Depression. Still, Huerta was involved with youth activities; took piano, violin, and dance lessons; sang in choir; and was an active Girl Scout. She spent her free time with her grandfather, who called her "seven tongues" because she talked too much. This ability would later become her greatest asset.
During the 1940s their financial situation improved. They owned a restaurant and a hotel boarding house where they often let poor farm workers stay free. She and her brothers worked there, learning to appreciate all different types of people in an ethnically diverse neighborhood. Huerta saw that they worked very long hours for very little pay and absolutely no benefits. They would sometimes get paid fifty cents per bucket of what they had picked, sometimes, twenty cents. Some farm owners would deduct from workers' pay if they drank their water during the day. Huerta promised she would make their lives better.
Huerta might have been inspired by her mother's compassion and her father's activism. She had stayed in touch with him when he worked as a coal miner and later with labor unions. He returned to school and earned a college degree. He won election to the New Mexico state legislature where he worked for better labor laws.
Huerta earned a teaching degree but found she wanted to help the kids who arrived to school barefoot and hungry. She turned to community work and social activism.
In the 1950s, she became a founder of the Stockton, California, chapter of the Community Service Organization (CSO), which opposed segregation and lobbied for better working conditions. They registered people to vote and organized citizenship classes for immigrants.
Farm workers' living and working conditions concerned her most. She joined forces with César Chávez and established the National Agricultural Workers Association in 1962, which became the infamous United Farm Workers, with more than 100,000 members.
Elected vice president in 1972, she devised strategies for the strikes and leading workers on the picket lines. They fought for workers' rights to minimum wages, paid holidays, unemployment insurance, and pensions. She marched 300 miles to the state capital to call attention to their struggle. After a successful nationwide boycott of California grapes, lettuce, and Gallo wines in 1978, she was the first to negotiate a bargaining con-tract between the UFW and California farm owners.
Married and divorced three times, Huerta had eleven children. Her extended family offered support whenever she was arrested—which was more than twenty times. In 1988, she was injured in an unprovoked beating by police officers. With broken ribs and a ruptured spleen, she underwent emergency surgery. People were outraged and caused the San Francisco Police Department to change its rules regarding crowd control.
Huerta helped found KUFW—Radio Campesina, the union's radio station in California. She is honored in countless murals and corridos (ballads). She has worked as vice president for the Coalition for Labor Union Women and as vice president of the California AFL-CIO. She is a board member for the Fund for the Feminist Majority.
She is a recipient of the American Civil Liberties Union Roger Baldwin Medal of Liberty Award, the Eugene V. Debs Foundation Outstanding American Award, and the Consumers' Union Trumpeter's Award. In 1998, Ms. magazine listed her as one of three Women of the Year, and the Ladies Home Journal listed her among the 100 Most Important Women of the Twentieth Century.
Huerta received the 2000 Leadership Award from the Hispanic Heritage Awards. She was honored by the California State Senate with the Outstanding Labor Leader Award, received the Woman of Courage Award from the National Organization for Women, and was the first Latina inducted into the National Women's Hall of Fame.

Excerpt from: THE BOOK OF LATINA WOMEN: 150 VIDAS OF PASSION, STRENGTH, AND SUCCESS By Sylvia Mendoza
To Buy from this Latina click here.